The basement has furniture! Finally. I thought this day would never come.
In the last two posts I talked about removing a wet bar and having carpet installed. You would not believe the difference those two things have made in this space.
In the back half of the long narrow main living area in the basement we set up our Ikea sectional and entertainment center.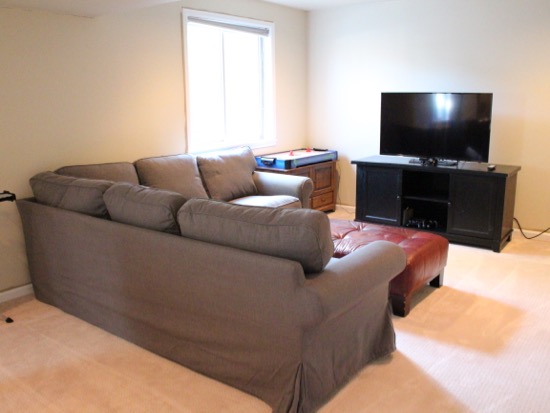 And in the front half of the main living area we set up our foosball table and drum set.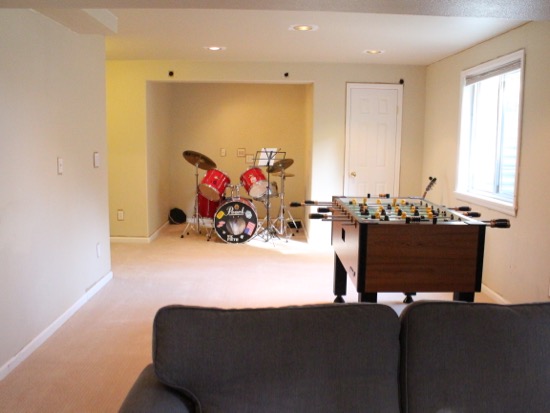 The space is not huge like you'd assume a basement would be, but it is big enough for our needs and we are happy with it. It's basically our new game room like we had in our last house.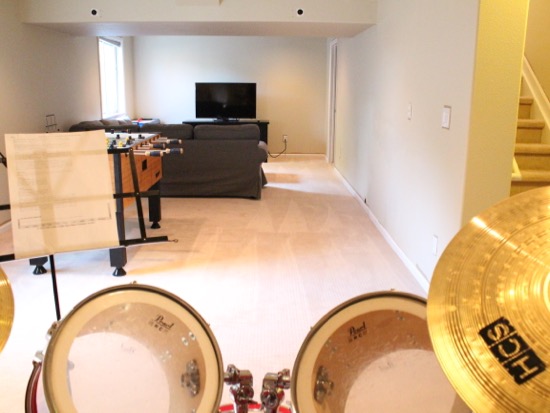 Here's our game room from our Texas house: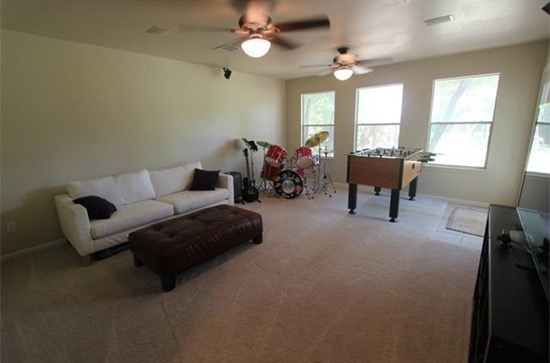 Back to our basement… The wet bar used to be on the right wall, where our natural walkway is now.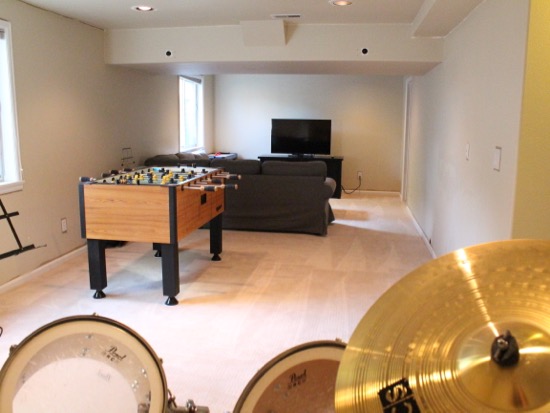 When you come down the stairs, you turn right at the bottom of the stairs to enter this room (to the left is Ben's office). This is what you see as soon as you step foot into the basement living area.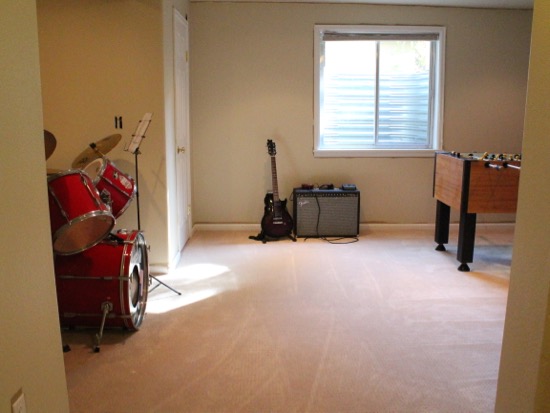 Here's a view looking back at the stairs. Try to just ignore the fact that I haven't trimmed out any of the paint yet.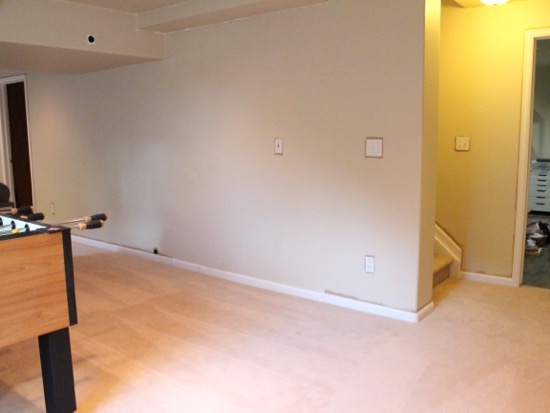 Looking back towards the stairs from the other end of the room. Again, this walkway is where the wet bar once was.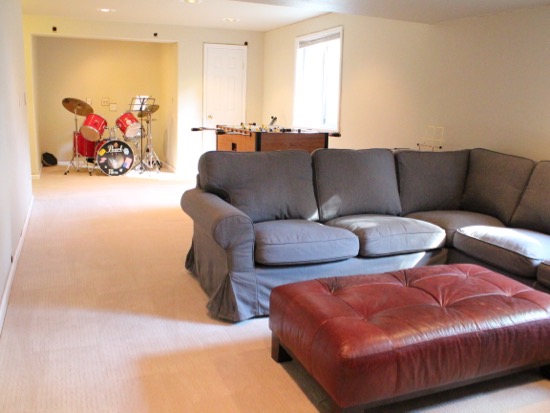 And here's a view from the other side of the foosball table. That door on the far left is Ben's office, which is a total disaster at the moment so I strategically avoided any direct shots in there.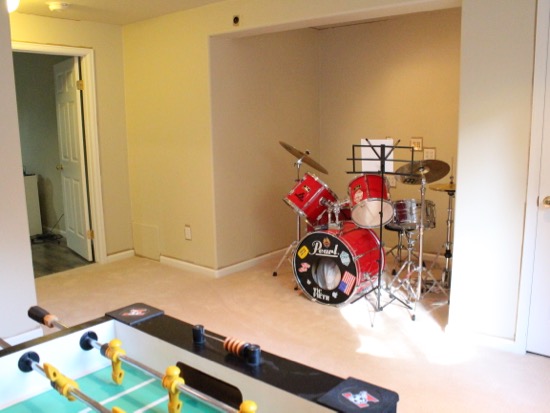 Now let's head over to the tv area…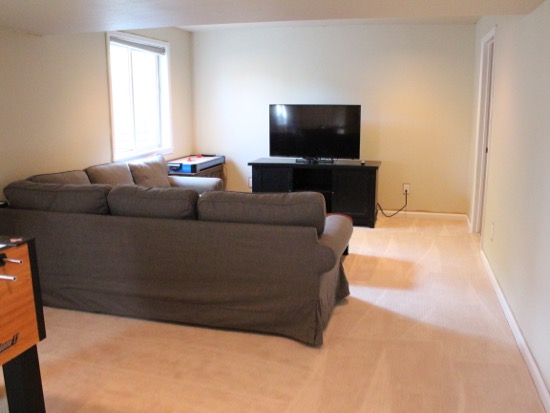 You may recognize the couch from our living room that I showed you a few weeks ago: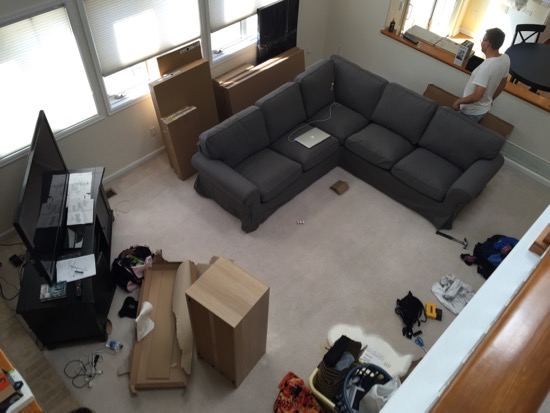 After we purchased the couch for the living room (without any measuring at all… oops) we realized it was way too small for the space, so we brought it down to the basement. It fits perfectly and we love it so much in there.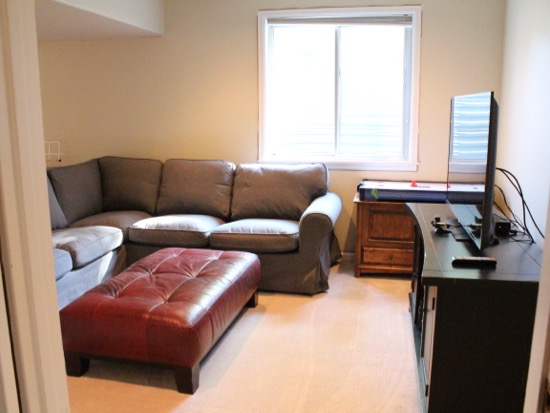 We paired it with our ottoman that was in our previous game room, but it looks terrible and we are on the hunt for an ottoman that matches better and also fits the space. This one is too big and will eventually probably make its way upstairs to the living room or piano room.
One more shot of the entire room, highlighting the ottoman that neither matches nor fits. Have I mentioned though that we sure love the couch? Oh yes, I did.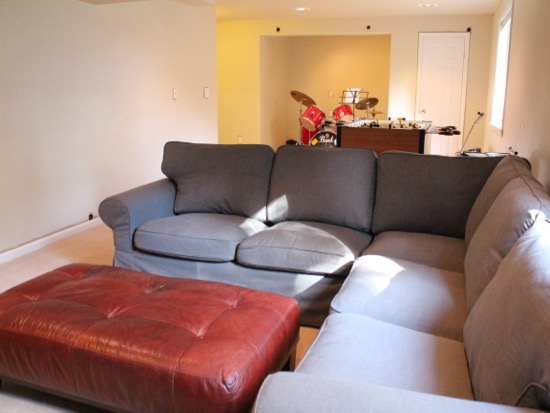 And seriously, if you know me at all by now, you know I am a serious sucker for before and after pics, so here ya go!
before: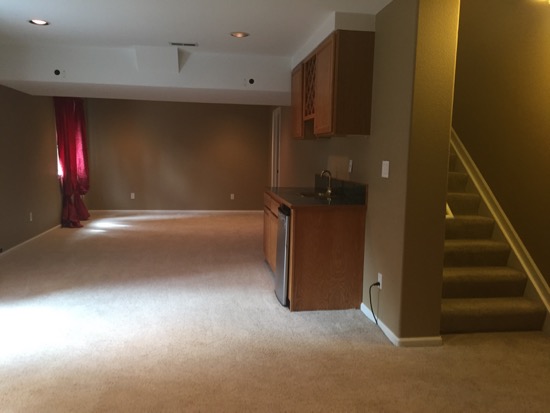 now: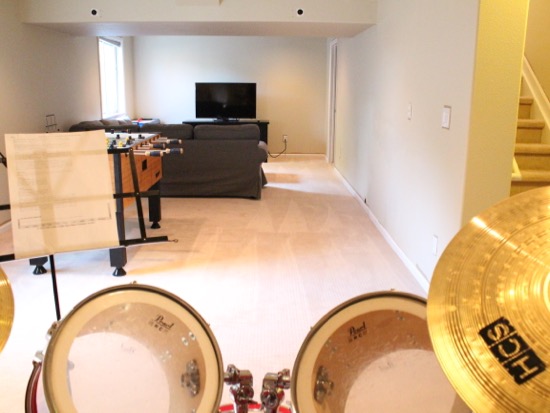 before: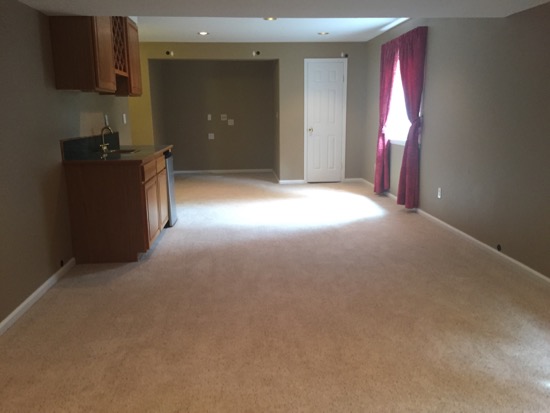 now: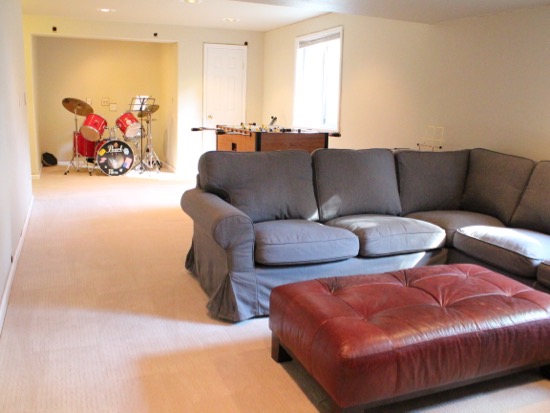 As you can see, serious progress is being made in the basement. Next on the list – painting all the edges around the room by hand with a brush. I'm really looking forward to my carpel tunnel flaring up. It should be loads of fun. 😉