Okay, so let's talk about this table.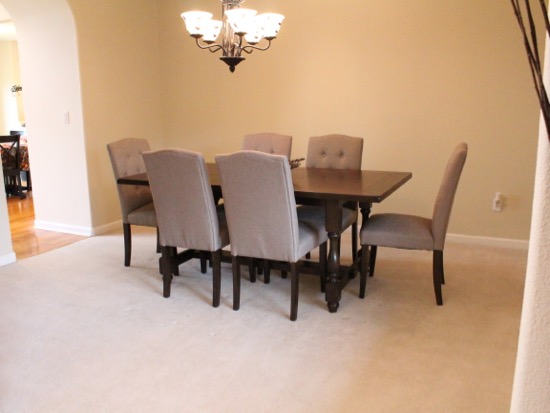 I'm not going to beat around the bush here, the table is from Wal-Mart. Yes, Wal-Mart. I know, I can't believe it either. It does have one redeeming quality though – it's a Better Homes and Gardens brand, called Providence, which makes it a tiny bit more legit I suppose.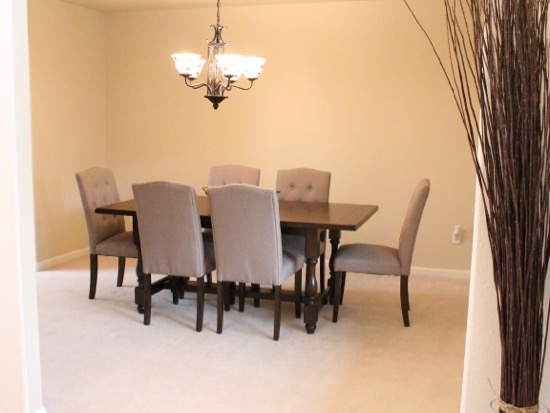 I originally bought this table for the kitchen but it was too big (should have measured!) so it became the dining table by default. We needed furniture for the entire house and had only a couple days to buy it all. We headed to IKEA for almost everything, but I didn't want only IKEA so I found this cute table at Wal-Mart for only $500 for the solid wood table and 4 tufted chairs (we purchased 2 additional chairs). The table I actually want is like 2k for just the table itself, so this one will hold us over while I save for years for the other one.
Okay, so table review? The table so far has been great. It is solid and heavy and I don't feel like it's going to collapse on me when I use it. The chairs though? Terrible. Awful. DON'T BUY THEM. First off, they are not comfortable. You sink so far into them that you can feel the wooden seat frame. Just not comfortable at all. And secondly, we all know you shouldn't lean back in your chairs. But we all do it anyway. So far, in about 8 weeks of owning these chairs, we have *almost* broke two of them. Almost? Well, they haven't totally split in two because as we were leaning back in them and heard loud cracking and destabilizing of the chairs, we quickly put them back on all 4s and have been too scared to lean back in them again. They will probably be completely broken within a few months. That's my prediction.
In fact, now that I'm rambling on about the terrible quality of this extremely inexpensive Wal-Mart furniture (gee, shouldn't that have been a big red flag?), I'm now wondering what the return policy on this set is because I might be able to get my money back. The only problem is, the set is huge and heavy, I threw all the packaging away, and I'll have to drag it all into the store fully assembled to even attempt to return it? Wow, sounds like the most fun day of my life.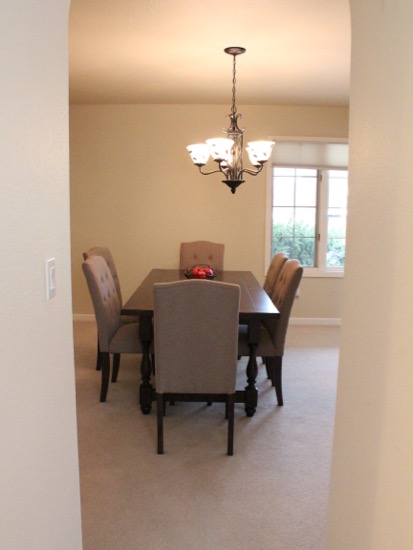 So, overall, the table itself is pretty good considering you got it + 4 chairs for $500. The chairs though? Don't do it.