How many projects have you pinned and actually followed through and finished? I can probably count on one hand how many projects on my Pinterest to-do list I've actually done. Well I'm here to report I actually followed through and made a project I pinned on pinterest. I am as shocked as you.
My friend Kristi from Addicted 2 Decorating made the most awesome mirror almost TWO years ago. And almost two years ago I pinned that sucker so quick. I just had to make one. It only took almost two years, but I've made the mirror and I'm thrilled to bits about it.
Here's my HUGE 4-foot in diameter wood mirror made from wood shims.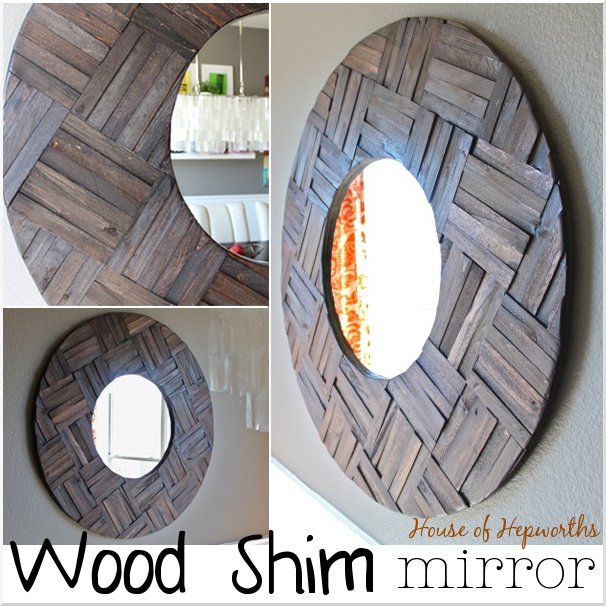 It is huge. And it is swoon worthy.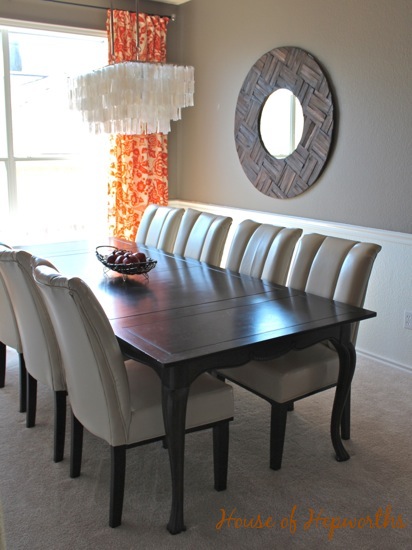 When I started the project I wasn't really sure where I was going to hang it. I was leaning towards putting it above my bed. However, I also wanted to make the mirror as huge as possible, so when it clocked in at 4-feet wide, it became too big to put above my bed. This huge bare wall in my dining room fit the bill perfectly.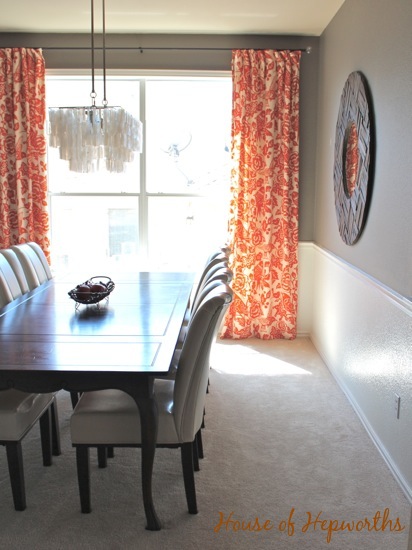 This dining room wall used to house my orange color-backed bowls…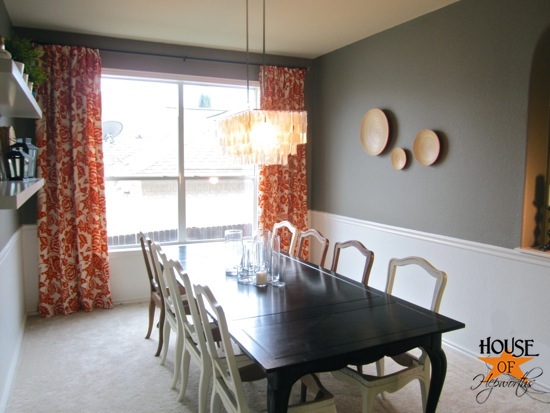 I still love these orange-backed bowls, but they always seemed a little small for the massive expanse of wall. Replacing them with the big honkin' shim mirror seemed like a smart change. Plus, the mirror matches the table and brings more of the darker wood tone into the room.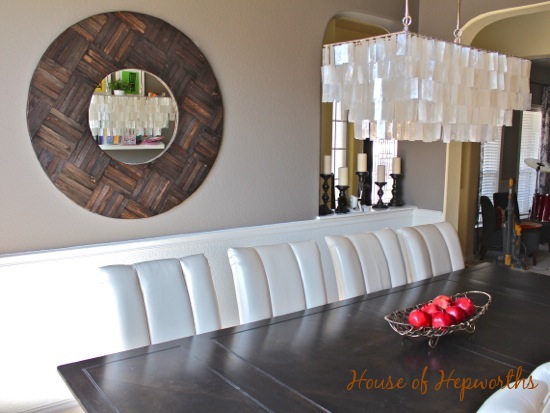 Kristi did a really great tutorial on her blog, so I don't want to just repost hers, but I will highlight the areas I changed.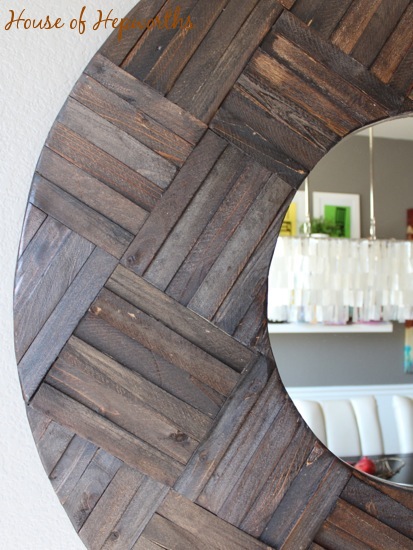 The inspiration mirror was a little more than 3 feet in diameter. I wanted mine super-sized (because everything is bigger in Texas?) so I opted for a 4 feet in diameter frame. I purchased a full 4'x8′ piece of 1/2″ MDF and had the hardware store cut it in half for me (for 2- 4'x4′ pieces). By doing this, when I trimmed it into a circle, I made it as big as I could; into a 4 feet wide mirror.
Also, I used 12″ shims and just cut them in half so I had a huge pile of 6-inch long shims.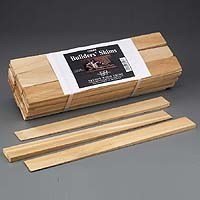 I pretty much didn't take any pictures until after all my shims were glued on, so we'll have to start from there. I found the exact center of the board, used a pencil, nail, and string to draw the circumference (see a few pics below for a picture of this). I also started gluing the shims starting at the center point instead of the outside. This ensured that I would have the same amount of shim squares on either side of the actual mirror.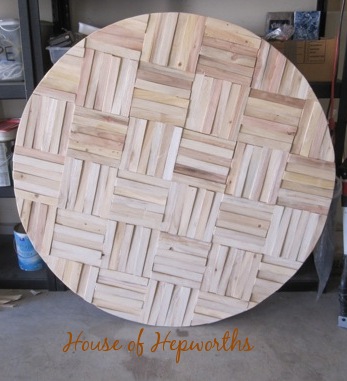 Because my shims were 6 inches long I opted to make each of my shim squares 6 shims wide. (Kristi's shim squares are 4 shims wide). I wanted bigger squares because the mirror was so huge.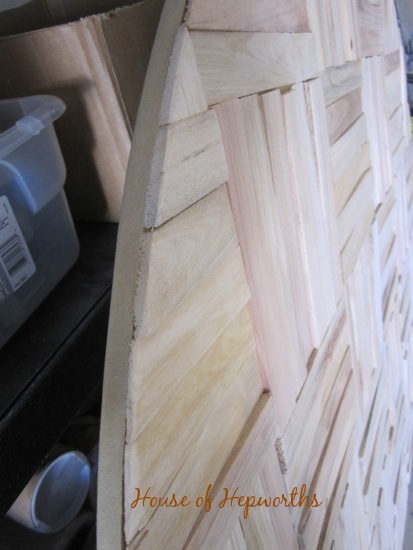 Once all my shims were glued on I cut out the huge outer circle with my jig saw and gave the edge a good sanding with some 60 grit sandpaper and my palm sander. This is the exact sander I own and use.
To cut out the smaller center circle I used the nail, string, pencil technique to make a jumbo compass and traced a new circle. Make sure you measure this against your mirror so your mirror fits!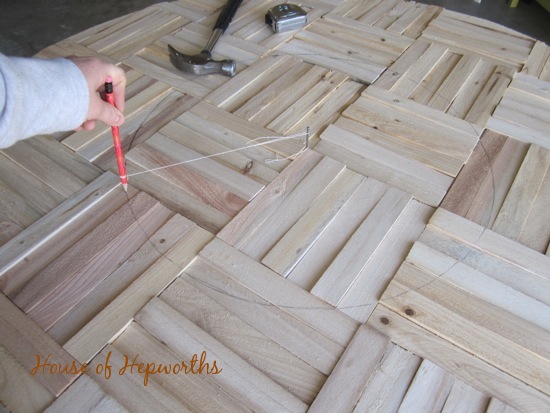 When the center hole was cut I gave the inside edge another good sanding then did a quick once-over on the top of all the shims. Now it's time to stain! I used the color Minwax Dark Walnut 2716 which is generally my go-to stain color for a rich dark brown finish.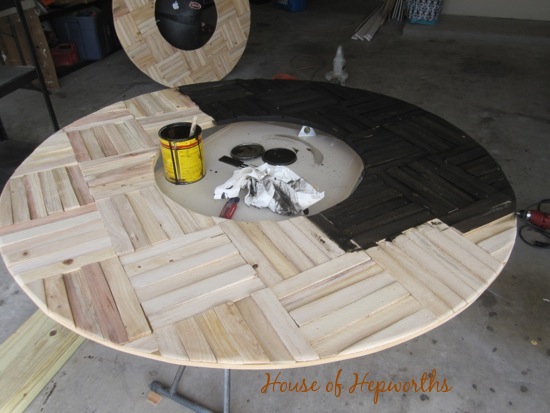 I had a few spots that wouldn't take stain because I got some wood glue on the shims, so when the stain was dry I hit those spots really well with the sander, then re-stained them.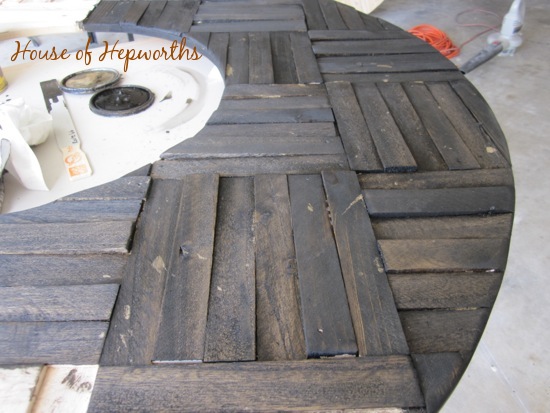 I let the mirror frame dry for a few days in the garage. It's already looking so good! Eek!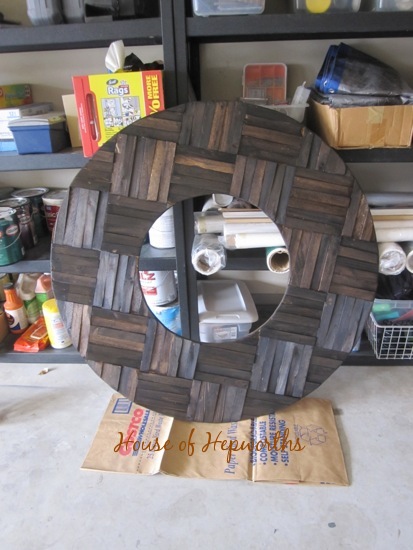 To finish it off, I gave it several thin coats of my favorite clear top coat – Rustoleum Painter's Touch Ultra Cover 2x in a clear matte finish. I pretty much buy this by the case-full and use it on all my art projects.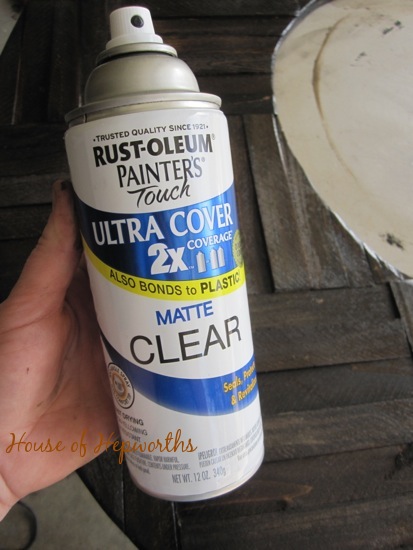 Now it's time for the mirror! I flipped it over once it was totally dry…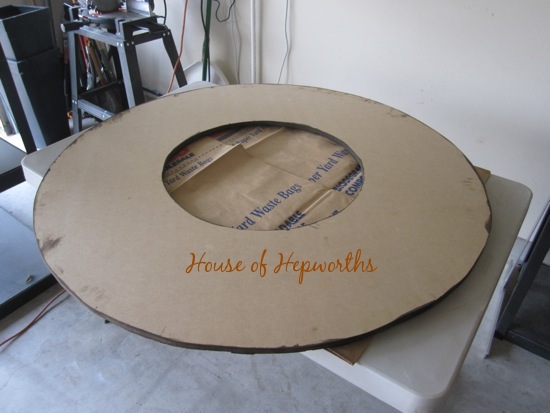 And glued the mirror on with some Liquid Nails. Then I used some heavy paint cans on top to hold it in place while it dried. *I used Liquid Nails for paneling because that's what I had on hand.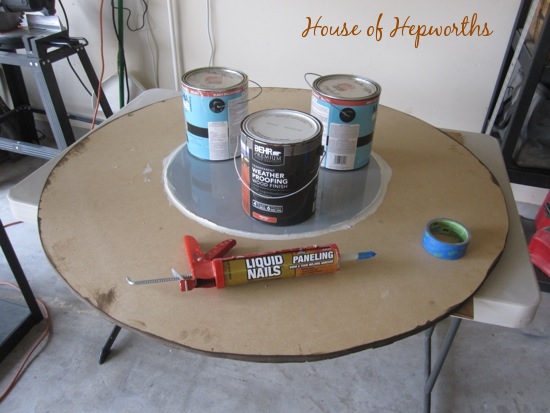 As for the mirror, I had a really hard time finding one big enough! I looked at Hobby Lobby, Michaels, Home Depot, Lowes, and even Target for a mirror and there were none. Finally it dawned on me to try ikea. Of course they totally came through and I got this Kolja perfect sized vanity mirror for only $15. (Most vanity mirrors at other stores are a lot more expensive than that!)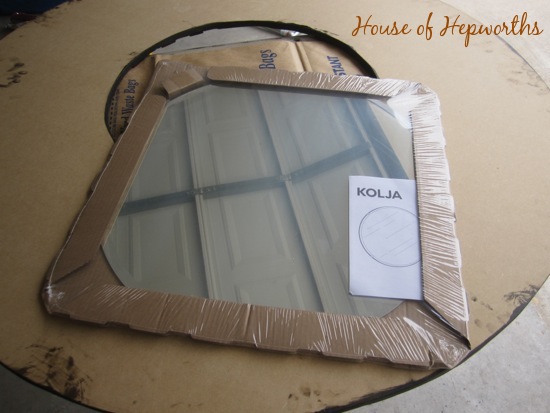 And that was that. A few hooks on the back and she's good to go.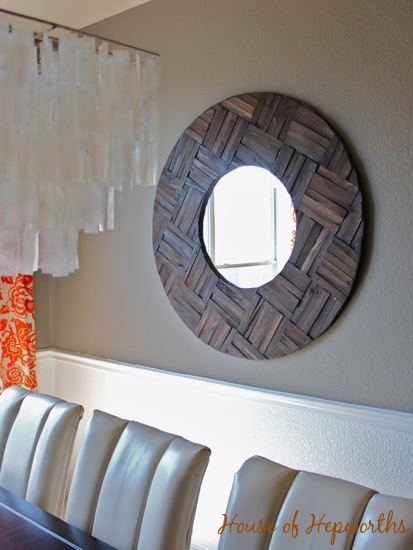 I really love the texture. The shims start big at one end and get smaller at the other, so when you alternate them all over the mirror it creates a really awesome rustic texture. I also really like the color and how each shim really soaked up the stain differently from the other shims.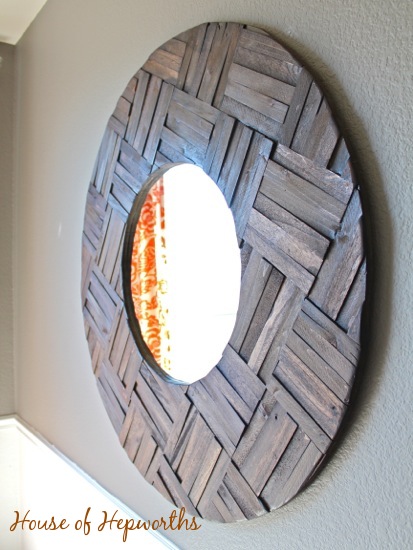 I can officially say I recreated a pinterest pin. One down, 3,400 pins to go!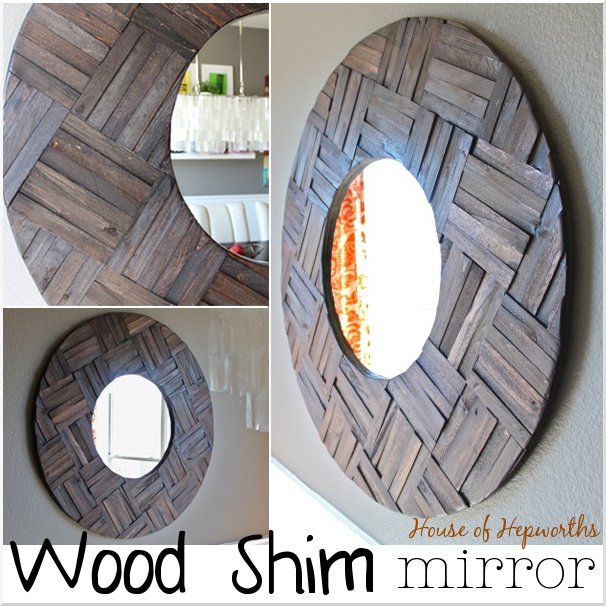 Before and after: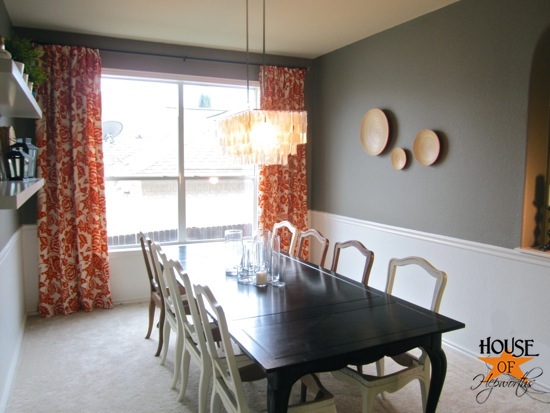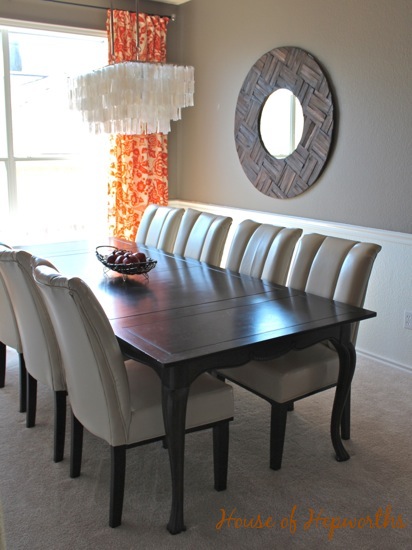 Price breakdown:
3 packages of shims – about $12
1/2 sheet of MDF – $13
Mirror – $15
Stain, glue, etc I already had
Grand Total: $40
I bet a mirror like this would sell for hundreds of dollars in a little custom eclectic shop.
So believe it or not, I actually DIY cute projects occasionally. ha! And if you feel so inclined, I would love for you to pin this project onto your own pin boards for all your friends to see. xo

You can follow me on pinterest here. Find Kristi's original post here.
This post contains amazon affiliate links.