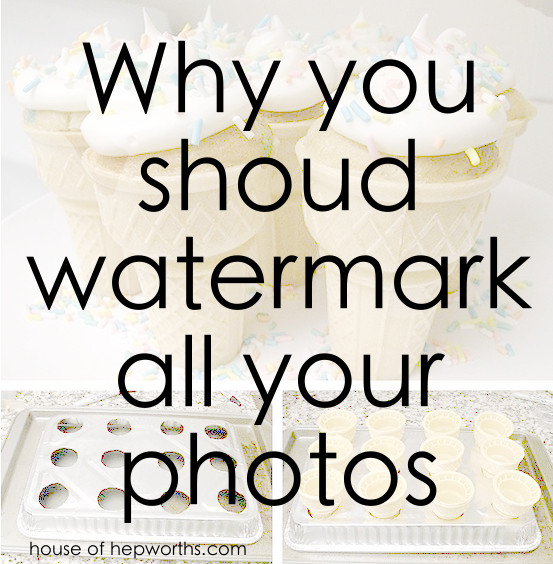 Have you noticed that every photo I post on this blog has my logo plastered all over it?
There's actually a good reason I do it, and if you are blogging, you should be adding a logo or watermark to your pictures as well.
Besides brand recognition, which I'll post about next week, the #1 main reason I add my logo to every photo I post on my blog is because of this:
and this:
Yup. My Soap Pump Makeover and my Cupcake Cones Tutorial. Are you totally confused? Let me elaborate.
Both of these photos make me really sad, but the cupcake cone project photo makes my blood boil.
You see, back when I first started blogging, I created a cupcake cone tutorial and a painted soap pump tutorial. And they were both very popular. These projects are two of the reasons my blog grew so quickly.
Well, a website (not in the United States) took my cupcake cone tutorial and all my images and then created their own image. This image actually.
And then they posted MY tutorial with this new Photoshopped image made from MY images on their baking website. No link back to me. No credit whatsoever.
An angel of a reader saw it and emailed me. I promptly emailed them and told them to remove my post from their website or give me credit. They chose to remove the post, but not before the image had been saved by hundreds of other people. Also, you can't find the image by clicking around on their site, but with a direct link you can easily view the image. They will not remove the image from their website. They would only remove the actual post. So the image is still being hosted on their server.
And now with the invention of pinterest, this cupcake cone picture has literally swept the world. I see it hundreds of times a day while browsing pinterest.
And not once has it linked back to my site and my tutorial.
People have taken this Photoshopped image and posted it on their own blog or tumblr, not crediting my site because they don't know who to credit. I have found this image posted on literally hundreds of other blogs and tumblr sites.
I'm thrilled that something I created has become so wildly popular. But at the same time, just seeing it over and over and not getting any credit for it makes me so bummed. I feel violated.
And basically the same thing happened with the soap pump tutorial:
Someone liked it, way back before pinterest was even fathomed, and so they downloaded the image to their computer. My image. And when pinterest popped up, they uploaded the image to their board. I'm sure it wasn't malicious. They probably just forgot where they found the image.
And again, this picture has swept pinterest. I'm sure you all have seen it repeatedly. I'm rarely credited for it. Yet it is mine, I created it, I photographed it, and I still use it today in my kitchen!
If I'm going to take hours of my time just to complete one tutorial, all I ask is that I get a little credit and recognition for it. Is that really too much to ask for?
I tried for awhile to leave a comment on every pin letting them know the image was stolen and then give them the original link. But that is futile. When someone repins the image, my comment doesn't transfer with the pin. It's like trying to put out a wildfire one measuring cup of water at a time. You will never tame a huge fire with a measuring cup of water.
So, lesson learned. Now every picture I post has my logo on it. That way, if someone borrows my image and doesn't link back, the image still has my name on it so people can at least google it to find me.
Also, I've found that if I put my logo on my images, the images aren't getting "borrowed" anymore anyway.
It's hard for shady bloggers to pass off a tutorial as their own if all the images are stamped with someone else's logo.
Bloggers, don't let this happen to you!
Stamp your images with a logo, or watermark, or just at least the name of your blog. Yes, it takes extra time, but you will get use to it and will be able to stamp them all quickly once you figure it out. Don't be the victim of tutorial and photo theft. Protect your projects that you have spent HOURS putting together. Get the credit that you deserve.
Here's a great tutorial from Crafterminds about how to add a watermark to your pictures.
Also, it is probably a good idea to put a "policy" on your blog. I have one in my sidebar called "HoH's Blog Policy". It's a good idea to add wordage like that to your sidebar, just for extra safety.
And just for fun, here's a plethora of awesome blogging resources that teach you everything from ethics, to html, to making money blogging.
And with all that said, OMG pet-peeve number 1: If you are going to pin something on pinterest, please for the love of…!!!, pin it from the original source and start giving bloggers the credit they deserve and are owed.
**I want to give a special thanks to Madigan Made for helping me track down the linked websites in this post. She made my day a whole lot easier.**