Today I'm going to show you how to mount your tv to the wall and hide the cords. We finally got around to mounting our TV on the wall this weekend. Mounting your tv to the wall and hiding all the cords is fairly straight-forward. Here's a step-by-step tutorial. Have fun!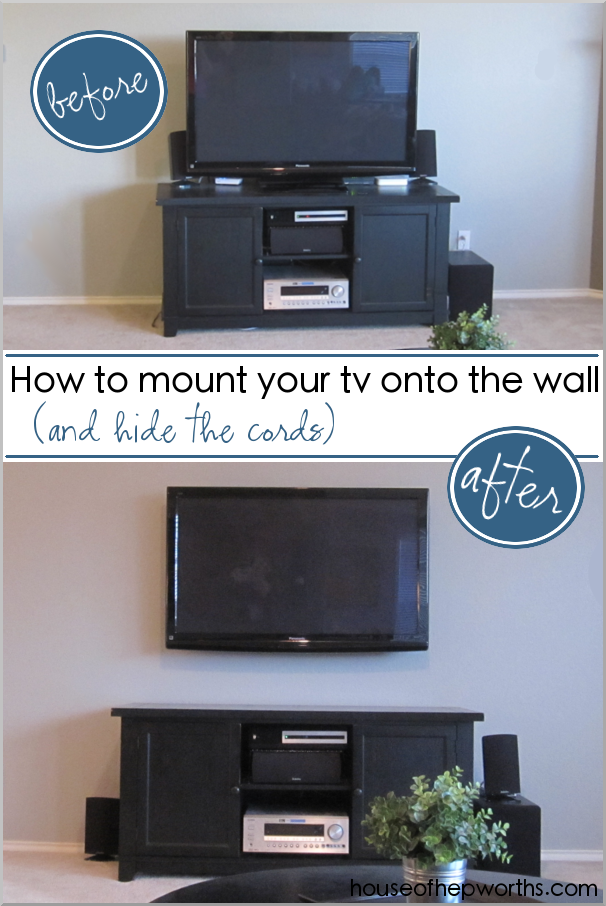 It's really not that hard to mount your TV on a wall (and conceal all the cords). It only took us about an hour or so. So, remind me again why it took us year and a half?
Oh rrrright. Because I'm the President of the Procrastinators Club. I even added this project to my to-do list, and I still put it off another 5 months. Shame.
To tackle this project you will need a few supplies. Some obvious, some not so much.
Shopping list:
Here's the eye-sore before we tackled this afternoon project:
I absolutely loathe of power cords.
Every time I walk to my bedroom, the laundry room, or the garage, I'm greeted by that horrible disaster of cords. I've got permanent hives and a twitch in my left eye just from seeing that monstrosity several times a day for a year and a half. Can you believe this nonsense?
But check it out NOW! No more cords! All is right in the world.
Here is a step-by-step tutorial on how to mount your tv onto you wall and hide all the cords.
First thing you need to do is buy a mounting kit.
Here is the exact same one we have.
Step 2: Attach brackets to the back of the TV and a large mounting bracket to the wall.
(Dropping a TV power cord through your wall isn't "to code". To do this project to code you will need a THIS.)
We laid the TV face down and attached the brackets.
There should be some screws on the back of your TV plugging the holes where the kit goes. Remove them.
Here are the holes after we removed the 4 screws.
Using the hardware that came with the kit, mount the brackets onto the backside of the TV.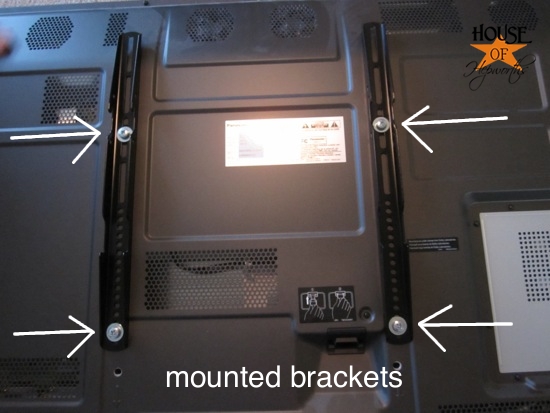 Step 3: Mount your tv bracket to the wall.
Do not be intimidated. This is easy!!
First, locate the studs in the wall. You want the bracket to be bolted directly to the studs.
Once your studs are all located and marked with a pencil on the wall, hold up your bracket, use a level, and use a pencil to mark all the holes where your bolts will go. Now remove the bracket and drill a pilot hole into the center of each of your bolt markings, like this:
Once your holes are drilled, put your bracket back up and bolt that bad boy to the wall.
Now double check to make sure everything is level.
Oh man, are we good or what?!
Your mounting kit is officially ready to go. Now the real fun begins.
Let's run those cables through the wall!!
To hide your cords, all you have to do is cut two holes in your sheetrock and drop them through the wall. It's really easy as pie.
Start by cutting your top hole. Cut it inside the bracket area to make sure it's well hidden once your TV is mounted.
Once the first hole is cut, you will cut your second hole about a foot off the ground directly below the first hole.
Don't be scared. Sheetrock can totally be patched if you botch it up.
If you are dropping cables through an interior wall (meaning it isn't a wall that has the outdoors on the other side of it), there will probably be no insulation inside your wall making it even easier to drop the cables.
If you are mounting your TV on an exterior wall (the other side of the wall is the great outdoors) you will probably have to push through insulation to get your cables through the wall.
Unfortunately this does not work on brick or cement walls.
All you need to do now is shove those cords through the wall. But wait! There's a really easy way to do this. It's called Steel Fish Tape.
This is Steel Fish Tape:
It's a thin flexible piece of steel (kind of like a tape measure but more sturdy) that comes on a roll. You unroll a bit of it and "fish" it through your wall. Here, I'll show you. It's easier than trying to explain it.
Shove the end of the Fish Tape through the top hole in the wall…
…and then pull the end out through your 2nd hole in the wall.
Use tape or whatever you can find and attach your cables to the end of the Fish Tape.
Now just wind the tape back up and pull the cords right on up through the wall. So easy!
I seriously get giddy when I have a chance to use the Fish Tape. It is fun feeding random stuff through your walls.
Now that you've got your cords hidden in your wall, plug them all into the back of your TV.
From there, lift the TV up and hook it onto the mounting bracket.
You are done!
No more cords. No more ugly!
Woot Woot!
I'm relieved I can finally check off another project from my daunting
to-do list
.
To save you from scrolling, here's the shopping list again:
Do you have your TV mounted on your wall? Did you do it yourself or hire a professional?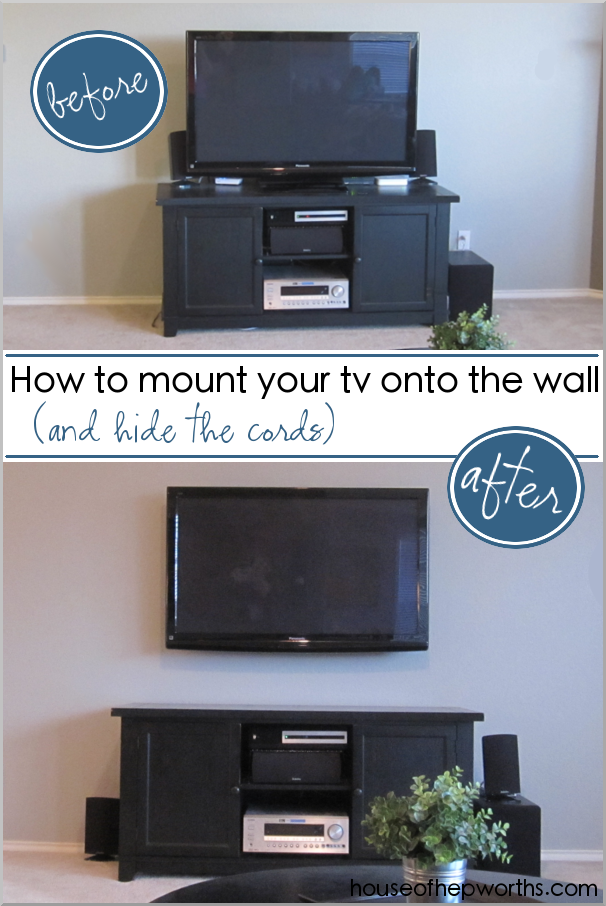 Instagram || Facebook || Pinterest || Youtube
This post contains affiliate links
Thanks for reading! Have a wonderful week!
You might also like: