Have you tried painting perfect lines on your wall only to end up with a disaster? No matter what you try, do your painted edges always look bad? I had the same problem until I discovered this trick!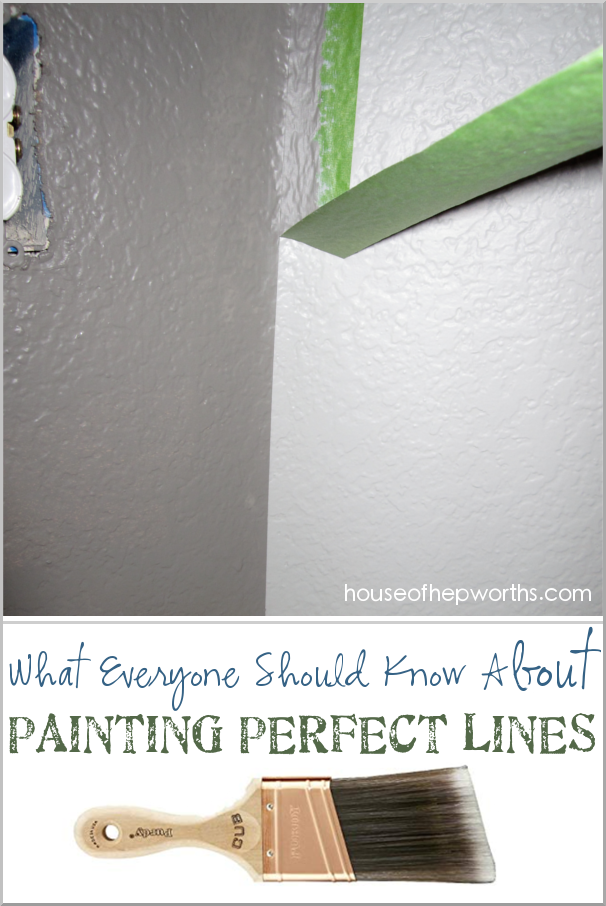 Look at how crisp and great the two different wall tones are around the fireplace. This is what painting perfect lines is all about!
Do you get frustrated when you try to paint two different colors and you can't get your corners to look straight?
Interior Designers are NOT the only people on this planet that can paint stripes on a wall that look like (and probably cost!) a million bucks! Follow this super easy step-by-step tutorial and you can have million dollar walls as well.
The line where two colors meet can be the most stressful part of painting. Here's an easy step-by-step tutorial on how to make those crisp perfect lines that everyone longs for.
Before you begin, make sure you have good quality supplies. I recommend these:
If you try to free-hand your line chances are you'll end up with a line that isn't as much of a line as it is a "wave".
If you tape off your line, you'll usually end up with your paint bleeding under leaving an ugly mess!
But there really is an easy way to paint those crisp lines. Check it out:
First off, your going to need a good paint brush. Also, you'll need your paint, preferably in a smaller container. Lugging around the gallon container of paint is no fun.
Okay, now let's get down to business.
Here is exactly what you need to know for painting perfect lines.
I wasn't planning on doing a tutorial on this initially, so my pictures are of a few different walls and the colors seem to flip-flop between photos. I apologize in advance if they are confusing.
Step 1:
Take your 1st color and paint OVER the edge that you want a crisp line on. In this photo, my new color is the light gray on the right. The tan on the left is the color I'm painting over.
Step 2:
When your gray is dry you are going to tape off where you want your crisp line to be. I prefer to use
Multi-purpose Frog Tape
. Make sure you put the majority of your tape on top of your 1st color (light gray). You want to tape off your wall so that you can paint your 2nd color edge.
Step 3:
Once you have your wall taped off, you will paint down the edge of the tape with your first color (light gray). This "seals" the tape. Any paint that's going to bleed under the tape will be this 1st color, which is the same color as your newly painted wall, so when it bleeds, it will blend in.
Use my favorite cutting in brush.
Step 4:
When your 1st color (light gray) on the tape edge dries, it's time to paint with your 2nd color (I'm using dark gray). Take
your paint brush
and paint down the same edge over the tape. Allow this coat to dry.
Step 5:
When your 2nd color (dark gray) is mostly dry, it's time to remove the tape. It should peel up easily, but pull slowly just in case. It's shocking how crisp that line is, isn't it!?!
Step 6:
You are now a master at painting perfect lines!
This tutorial is from a wall that is angled only 45 degrees, but this technique works perfectly for stripes on flat walls, corners, angles, and even houses that have walls with rounded corners.
In fact, these lines were painted on rounded corners. This technique works for any wall, and does not discriminate against surface type, corner type, or texture thickness.
Your shopping list:
If you have any rooms (or projects) with lines where you'd painted this way, share your link in my comments section so other readers can check out your post as well!
Here are a few more posts with some great painting tips:
Happy painting!


Instagram || Facebook || Pinterest || Youtube
This post contains amazon affiliate links
Thanks for reading! Have a wonderful week!