As promised, I am here to show you the new kitchen layout. I talked about our plans in my first "We're renovating the kitchen!" post last week, but as per the usual, once I published the post with all my plans, I freaked out and changed all the plans. I'm very consistent in my inconsistency. 🙂
I'm going to show you several before photos first to give you a good feel for the space before I show you all the changes we are making. I used painters tape to measure off the new layout and live with it for a week or so to make sure I LOVED it before gutting my entire kitchen and building the new one only to find out I hated it. That would suck.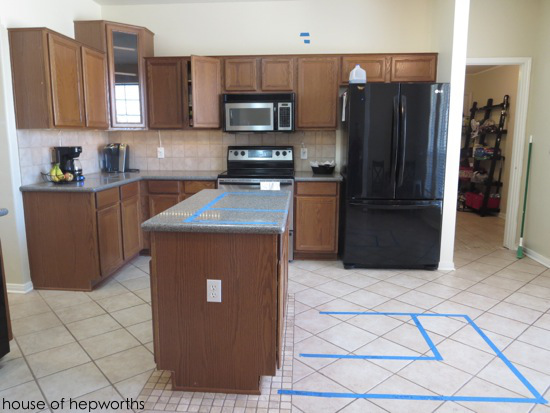 I have lived in this house for almost a year now and feel like I really have a good "feel" of the house and how we live here. There were times that I hated this kitchen, the layout, pretty much everything about it. But I'll be the first to admit I was being just a tad dramatic.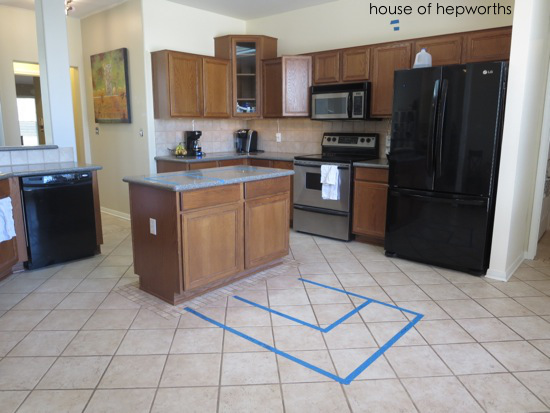 The kitchen layout isn't really that bad, and once I stopped fighting against the layout of the house and started to try to work with the house, things started falling into place.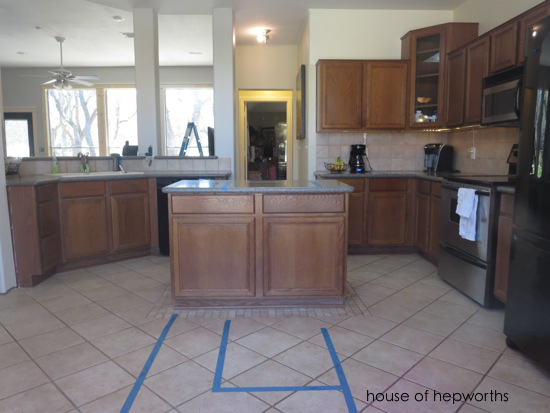 I spent months trying to design a kitchen that involved moving load-bearing walls, or adding an addition onto the house for a big breakfast room. I've drawn up every possible layout one can conjure up. At the end of the day? It just does not make sense to tear down half the house and move load-bearing walls. It is inefficient and costs loads of money.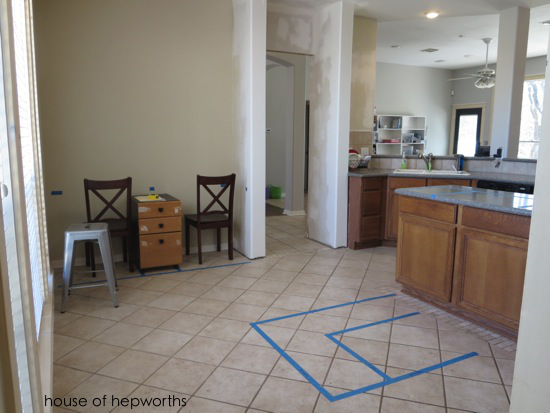 So that's my new motto… to stop fighting against the house and start working with it instead. This new attitude has helped me to fall in love with my new home. The new kitchen renovation will just solidify that this is my forever house, I love it, and we are never moving again. We are working with the layout, but are just tweaking it to make it the best weird layout it can possibly be.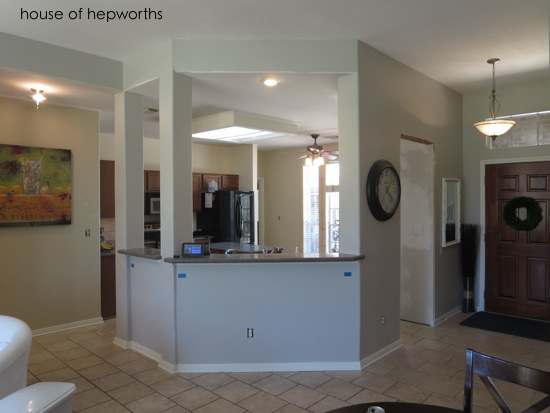 These columns have to stay because they pretty much hold up the entire ceiling. When we bought, I was like, "Oh, I'll just take those out and open the space up! No biggie!" Um, yes, BIGGIE. They aren't my favorite, but they are staying and I have some really exciting plans for making them look better.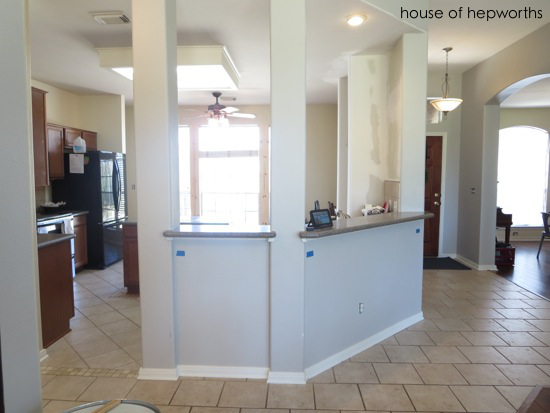 One more "before" of the kitchen before I get to all the new changes… Those big windows? One of my favorite things about this kitchen – tons of light and a great view of the driveway so I can watch the kids play.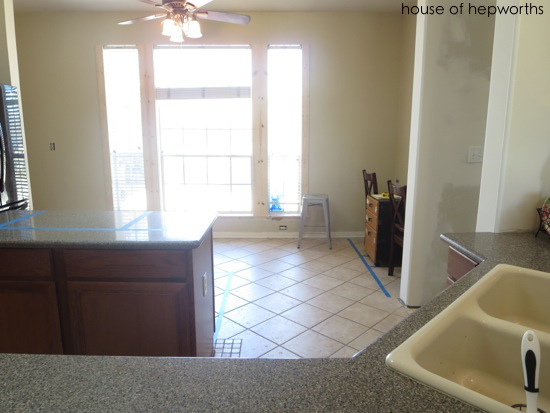 Are you ready to see my vision? I hope you like it because the cabinets are already being built as we speak. If you think of any really awesome change that I could sneak in real quick, I can probably make a few more little changes over the next couple days.
Remember when I said we were doing a separate tall oven cabinet? We aren't. We were all set to do it, and after blogging about it I just couldn't shake this terrible feeling about it. My gut was just screaming at me that I would hate it. So it got nixed. So did the appliance garage. We are sticking with a basic range, but trust me, I am much more at peace with this decision and am very happy about it.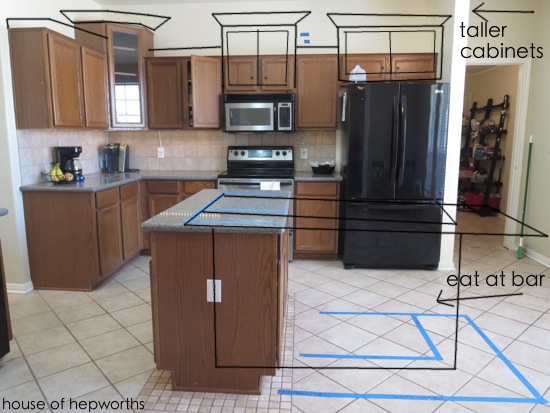 We are adding a huge island that will seat 4 people and will add a bunch more storage (plus a pull-out trash can!). All upper cabinets will be tall (42″ tall). The far left, middle, and far right cabinets will be 6″ taller than that. The fridge will have a box around it and the cabinet above will be the depth of the fridge (24″ instead of the standard 12″). All our appliances will be stainless steel (except we are keeping the fridge for a few months because we are already over budget. We will buy a new matching, possibly counter-depth fridge once we have the cash to purchase it).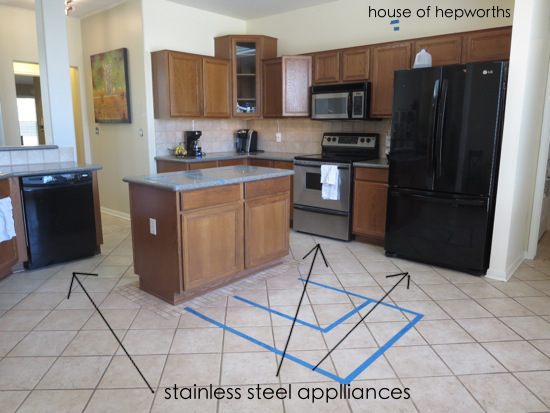 Looking from the other angle, the awkward area to the right of the window will have a built-in desk that seats two people. We spend a lot of time in the kitchen and it seems like a good space to have the kids' computer. I will also use one of the spots for my desk and computer area. I'm getting tired of blogging from the couch or dining table and am really excited to have a designated space once and for all. Desks in kitchens don't make sense for everyone, but it does for our family.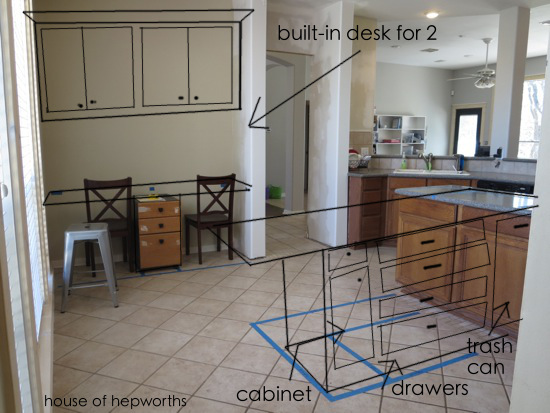 We are adding an in-cabinet pull-out garbage can to the island, but we also went a little overkill and added a 2nd smaller pull-out garbage can to the left of the sink. We need a garbage can next to where we do most of our food prep (the island) but we also wanted a small one near the sink, so we just said, "Why not?!", and added both. We are also dropping the bar to counter height. The counter will extend between the columns slightly into the living room but will be one continuous counter.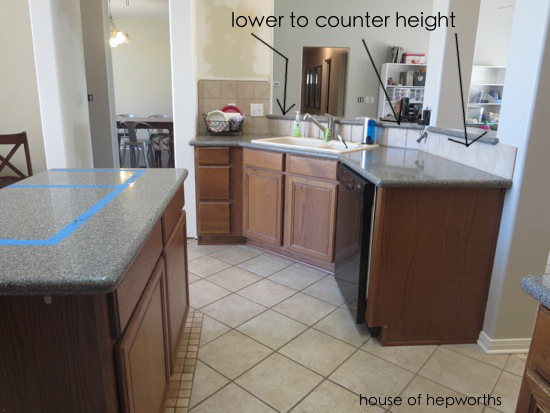 And one final "vision" one to help give you an idea of how everything will flow. After tons of research we made sure to leave about 50″ between the back of the bar and the sink and desk areas. That way there is plenty of room to walk through the kitchen even if someone is at the island and the desk at the same time.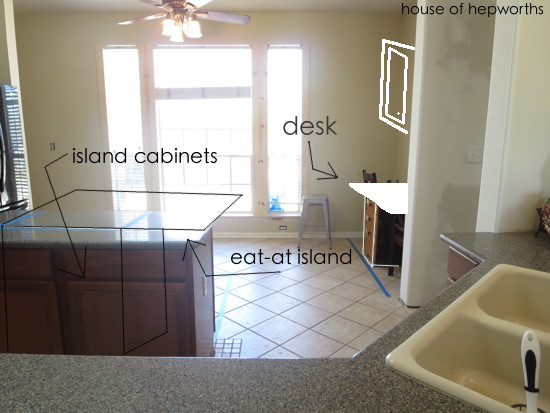 And here's one final *bonus* photo of the kitchen looking in from the dining room. It doesn't really go with this post but it's here so I'll just throw it in anyway, in case I've never showed this angle before.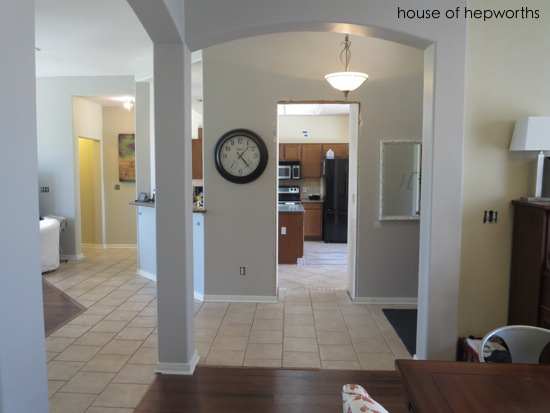 As I mentioned in a prior post, the cabinets will be dark brown. We went with a very traditional raised-panel door. The wood is knotty alder so the doors will have a few blemishes and knots in them, which makes me weak in the knees. Here's a very loose rendition of what our cabinets will look like: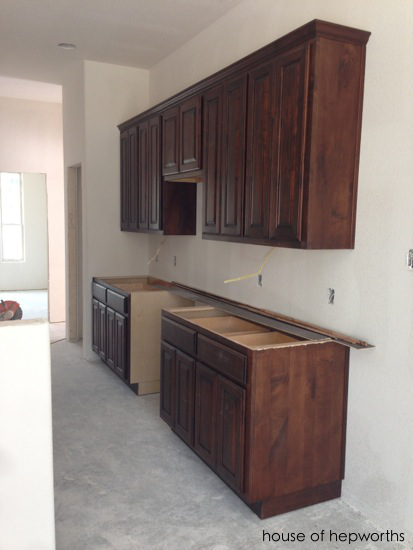 They look very red in this picture (taken at a home around the corner being built for our friends) but it was dark so I had to use the flash. In real life they are pretty dark brown. So there you have it. That is the plan, Stan.
To see the other posts in this series, start here:
1. Let's Talk Kitchens. More Specifically My Kitchen Renovation.
2. Let the Kitchen Demo Begin!
3. More Kitchen Demo & Updates.
Or you can also just click on this –> Kitchen Renovation tag, but they display from newest post to oldest post. Thanks for following along, and as always, I really appreciate your thoughts and input. You guys usually give me the best tips and advice!