Don't you hate it when bloggers start a project, and then never seem to finish it? You're left wondering what ever happened to it, and hoping for an update. Ya, me too. It's so annoying waiting months and months and still never get any updates. What I hate most is that I am guilty of this. I'm a terrible blogger! I get excited about a project, start blogging about it, then lose interest in actually finishing the project. Months go by before the project is updated.
I am sorry that I have been one of those really annoying bloggers that takes months to finish a project.
I am even more sorry that it has taken me over a year to finish my dining table and chairs redo. It's actually been 19 months. Even more embarrassing.
In case you are new here, or just flat-out forgot what the heck I blogged about 19 months ago (I practically forgot about this table and I live here!), Here's the low-down on the biggest-pain-in-my-ass project I've ever taken on.
19 months ago I found a 10 seater table and chairs on craigslist that was solid wood and, hello? It seats 10 people! I quickly bought it and brought it home with the intention of refinishing it top-to-bottom within the month.
Two months later the table was refinished with dark black stain.
Then 4 months later I did a post on how to remove old upholstery. It was suppose to be one of several in an ongoing series about upholstering dining chairs.
And then… nothing. For a full year. Not one post about the chairs. I've blogged a lot about the dining room. I just never got around to finishing those darn chairs.
In my latest dining room post you can tell that I painted the chairs. At least some of them. The table is missing several (which were in the garage waiting for a 2nd coat of paint).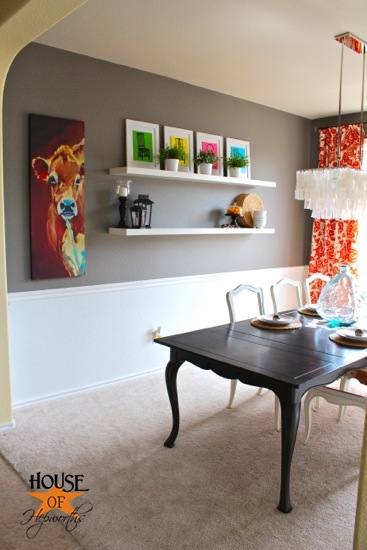 So, before I share the good and bad news about finishing the table and chairs, I first want to formally apologize for being the most sucky blogger on the planet. I am sorry I started a project 19 months ago and am just now finishing it. You can just call me Sucky McSuckerson. Because I suck. I will try to never be such a sucky blogger ever again (except for the patching-the-drywall project. I still haven't finished that one either.)
Okay, for the good news. I have fully functional chairs in my dining room. The table and chairs are done. We can officially eat in the dining room now.
The bad news. They are not the same chairs.
You guys, refinishing 10 dining room chairs is hard. Really hard. I will be the first to admit, I bit off more than I could chew. I could have totally done one chair. Maybe even two. But 10? I got myself in way too deep. And I gave up. Not to mention I've never actually upholstered even one chair in my life. So I thought the best way to jump into this world of upholstery was taking on a 10-chair project right out of the gate? I'm nothing if not overambitious.
But back to the good news. I was trolling craigslist last week and came across a post for 8 BRAND NEW Bonded Leather 20″ Pleated Back Parsons Dining Chairs. For only $300 for the full set.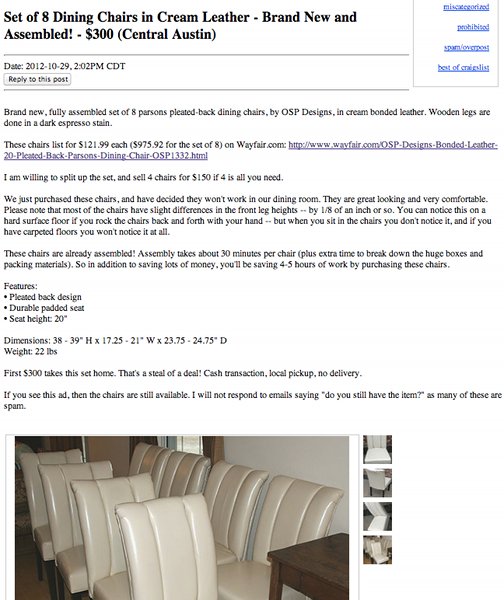 Brand new they are $118 a chair. I don't luck out on fantastic craigslist deals very often.
I jumped on those chairs so fast and was at the guys house within the hour (with Ben who was acting as my furniture loader and bouncer in case the guy was a creeper). Fortunately the guy was not a creeper, and the chairs were in fact in perfect condition, so we loaded them up in the soccer mom van and headed home. Here are the new fully-functional chairs just waiting for a big family dinner.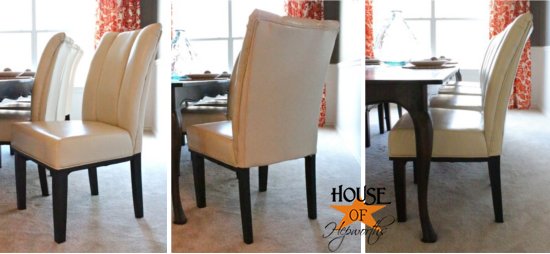 I didn't measure to make sure they would fit before I bought them. Thank goodness they are the perfect size for the table.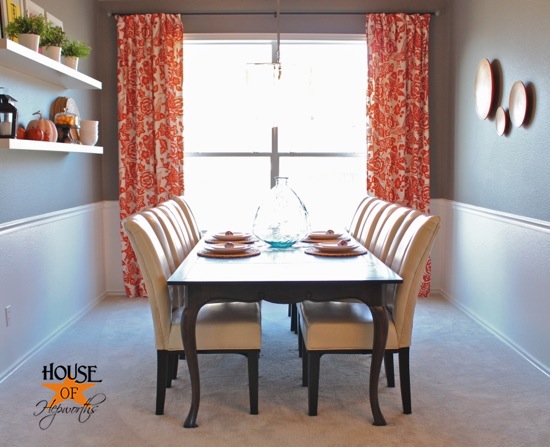 I'm not exactly sure what I'm going to do about Captain's Chairs at the head and foot of the table, but in all honesty I really like the set up with only 8 chairs. Having one on the end seemed kind of cramped.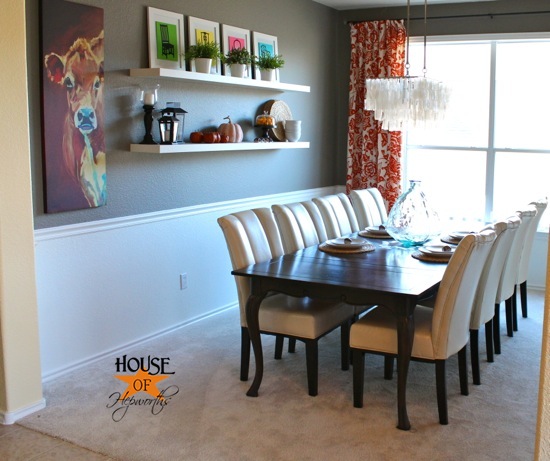 I don't really know what else to say. I'm not usually at a loss for words. I'm just really glad to finally have a place to sit and not have to explain to every person that pokes their head through my front door why my chairs don't have any upholstery on them.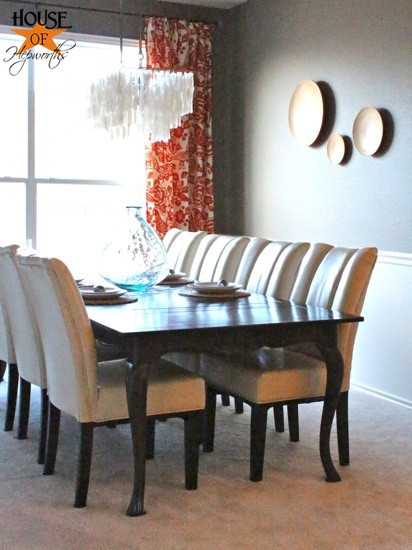 I took a few artistic shots of the table from the opposite angle. I always take pictures of the room facing the window but here are a few with my back to the window.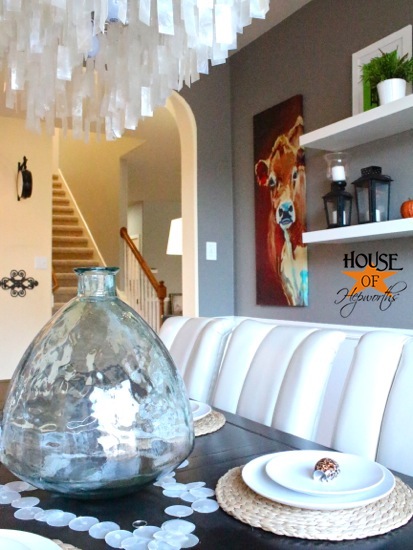 I got the large bluish glass vase at Hobby Lobby last year. It's one of my favorite decor items in the house. I'm not sure how well the scale works having it on my table, but I love looking at it anyway.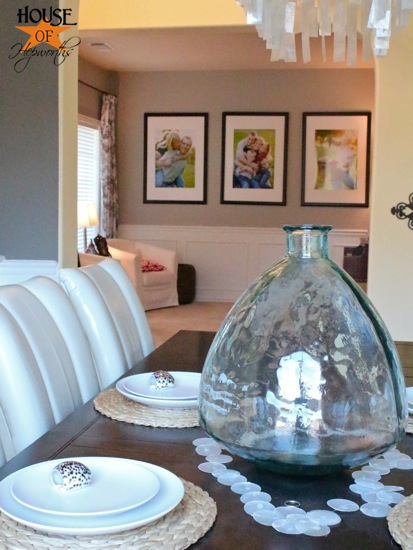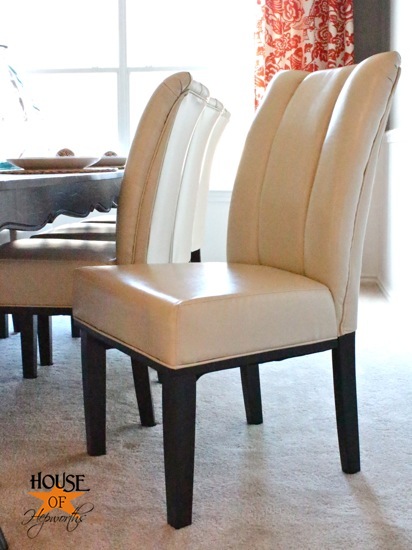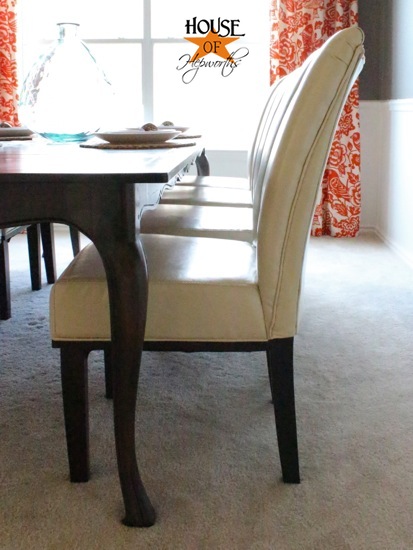 As for my half-finished dining chairs that I still own, I am going to be listing them on craigslist as-is. I'm hoping some fabulous upholsterer will snatch them up and finish them all. I can totally picture them being finished as singletons or in pairs and sold for extra seating here and there. Can't you picture them painted bright yellow with a bold black-and-white chevron fabric?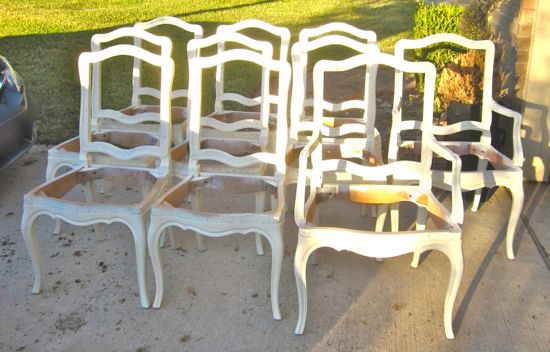 Hmmm, that makes me kinda want to keep them and finish them myself.
Totally kidding. Hopefully I'll have the ad posted by this evening.
And again, I hereby swear to try to be a better blogger and finish any projects that I start in a more timely manner.
The End.