From the day we closed on this house, my first priority has been to do what I like to call, "Project Brand-New Basic Builder-Grade" (or PBNBBG for short. Just kidding. That acronym is redonkulous). Basically, I want to update this house enough so it feels like we moved into a brand-new, albeit basic builder-grade house.
A lot of the basics you take for granted when you move into a house were either gross or broken, or missing. I have spent a lot of time doing busy work such as painting, changing out the light switches and plug outlets (still not done with that one), painting doors, adding new doorknobs, installing ceiling fans, swapping out air returns and door stoppers, etc. Lots of fun going on over here at the Hepworth house. Not really. It's more like, lots of tedious monotonous work going on over here that I promise you, you would be bored out of your mind if I continued to blog about it. I'm bored even mentioning it.
And now, an attempt to make a somewhat boring update really exciting through my witty sense of humor and stellar writing skills…
I can now check off another item on the ol' proverbial PBNBBG list (sorry, couldn't myself. That acronym might stick after all).
All the hinges are not contributing to the Brand-New Builder-Grade feel I'm going for. In fact, they look terrible, especially since painting all the doors black (which I'm still obsessed with, be tee dubs).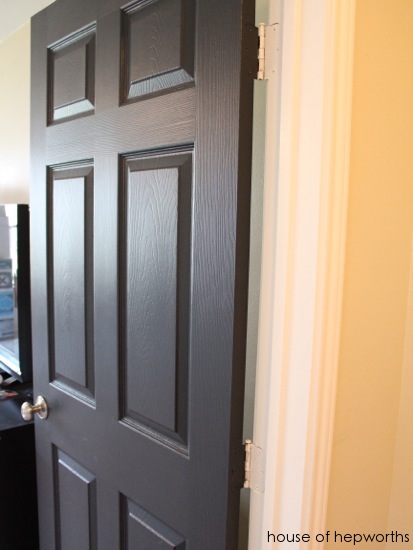 Don't look too closely or your eyes might melt off your face, but here's a close-up: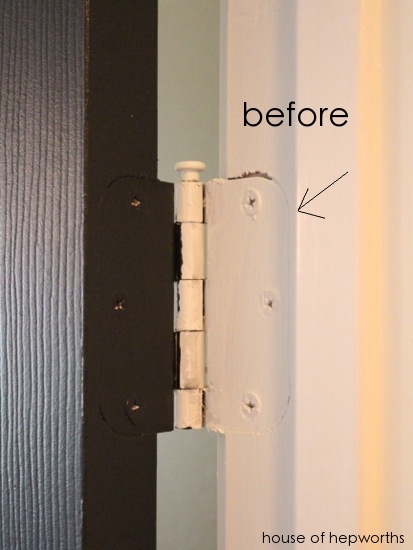 Yikes.
Well, the deed is done. New hinges have been installed, and I didn't realize adding new hinges to a door would make me get so weak in the knees. A sight for sore eyes, for sure.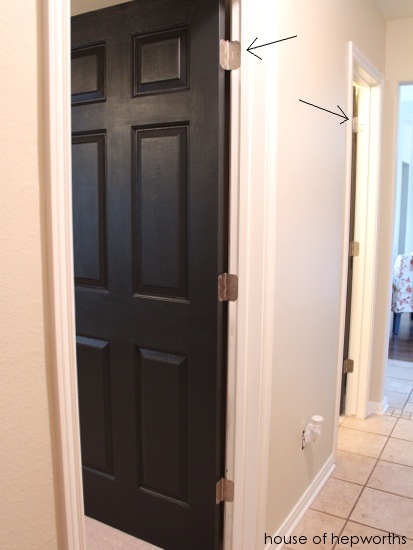 Quite the improvement if you ask me. Check out this before and after. Wowza.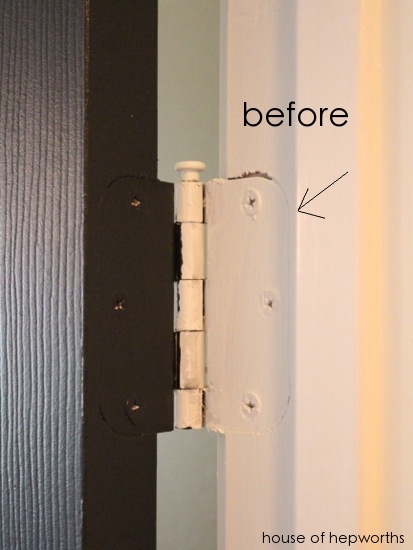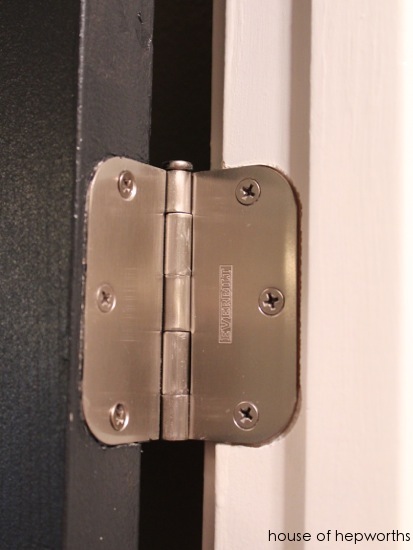 The curtains finally match the drapes. Er, the doorknob matches the hinges. Yes. That's probably a more appropriate phrase to say.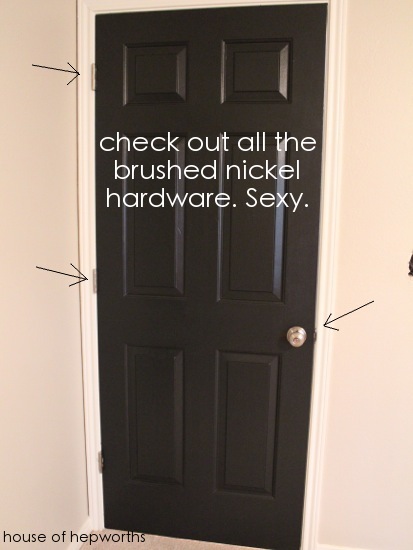 So, the nitty gritty. I headed over to the hardware store and snagged this box of 12 hinges for less than $25.
I just looked it up. They were $22.98 and you can see them right here (not an affiliate link).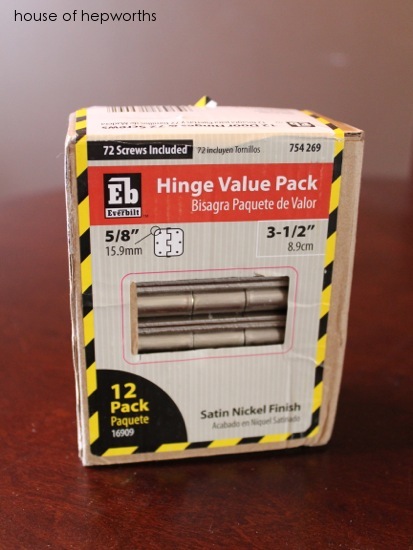 Before I purchased the hinges I wanted to make sure I had the right size so I removed one hinge from one door (the center hinge so I could leave the door still hanging) and took it with me. I simply held it on top of hinges at the store until I found one that was the same size.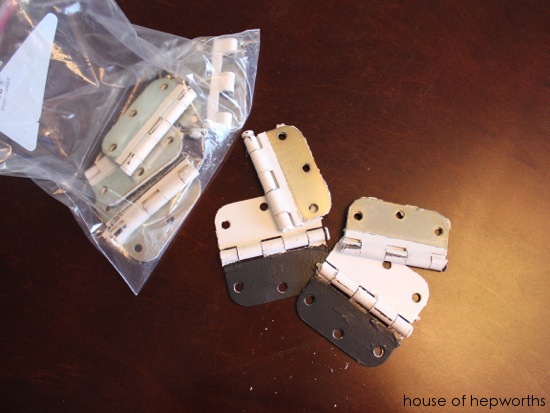 The installation was very simple. I did one hinge at a time, removed the old hinge, screwed in the new one. Then I did the next hinge. I never took down the doors, I didn't even have to pull the pins out. I simply swapped them out one at a time.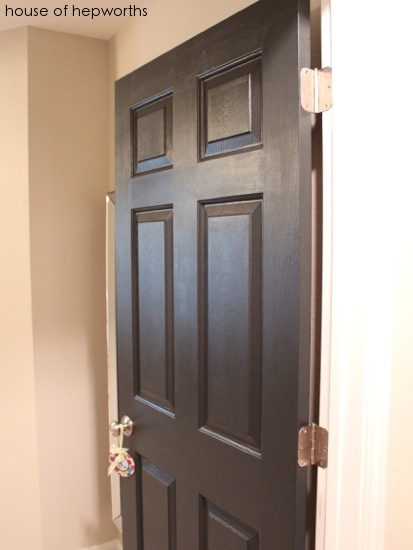 Swapping out gross hinges that are either painted or are a different finish than the doorknob is a quick way to spruce up your house and make it feel 10x newer.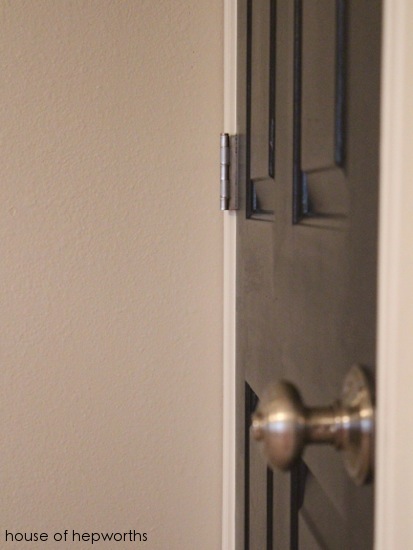 And a final side-by-side of how much a difference visually it makes to swap out those dated or painted hinges: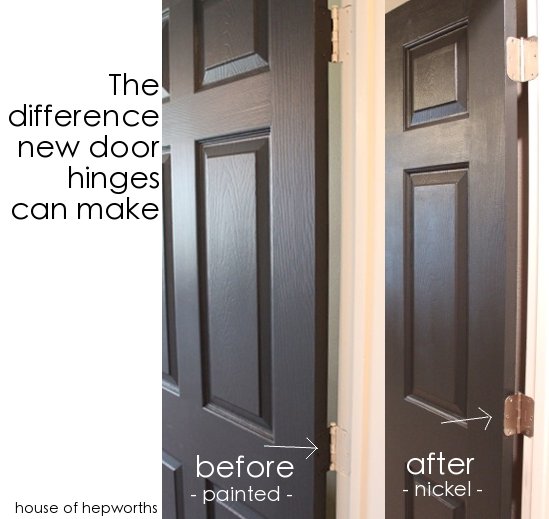 Mind-blowing I tell ya. This is deep stuff, people. What I could have said in 16 words but instead drug out to 569 words? I swapped out the hinges on all the doors and they look a gazillion times better.