(I was one of the bloggers selected by True Value to work on the DIY Squad. I have been compensated for my time commitment to the program as well as writing about my experience. I have also been compensated for the materials needed for my DIY project. However, my opinions are entirely my own and I have not been paid to publish positive comments.)
As you probably know (unless you are new here, hi!!) we just moved into a new-to-us-but-really-not-so-new house almost 6 months ago (where on earth did 6 months go??). We love the house, but it is dated and worn. In an attempt to clean this place up and give it a new life I've been painting every wall, ceiling, and door, and replacing anything too dirty or disgusting to salvage (light switches, door knobs, etc). In addition to those tasks, I've also been trying to switch out little things that you probably don't even think about or notice like air registers and doorstops. (Well, you don't notice them until they are dirty or gross and then they stand out like a sore thumb!)
Take this gold doorstop for example: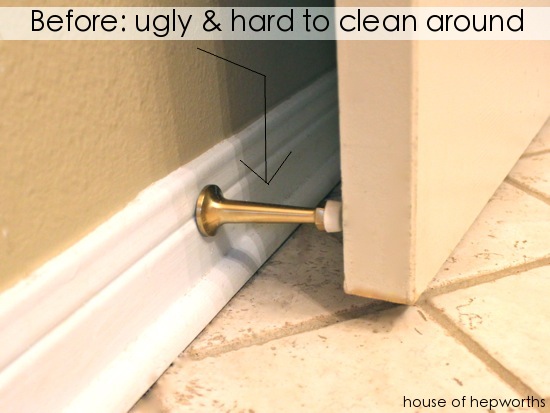 Our entire house had stops like this one. They do their job, but in addition to being downright ugly (brass is not my thing), they are also really hard to clean around, especially if you are using a vacuum. Plus, I don't know about you, but I seem to stub my toe on them constantly. ("The injuries received from Brass Doorstop's "actions" so called, causes [me] daily pain!"…name that movie! Oh man I love that quote. PS the answer is The Incredibles.)
I've been trying to take this house room by room, at least in the initial painting and upgrading phase which I've dubbed "new builder grade phase". So in addition to all the painting, I figure I may as well swap out all these little things that just add a nice finished and new touch to each space.
Each room that I've tackled so far has received a new doorstop: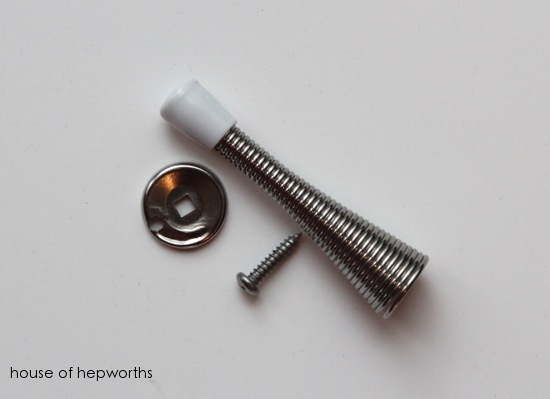 I LOVE these doorstops. I know, I know, it seems silly to be in love with a doorstop. But really, I can't get rid of those brass ones fast enough. I love these new ones for two reasons: 1) They are silver, or satin nickel, or whatever you want to call it (white gold? platinum? shiny gray? lol) which blends in with all my new door knobs (and soon to be hinges once I replace all those as well), and 2) they are essentially one big spring, which makes it so easy to vacuum around (the vacuum just pushes the stop out of the way so you can vacuum under it), and if I accidentally step on or kick one, my toe no longer ends up broken.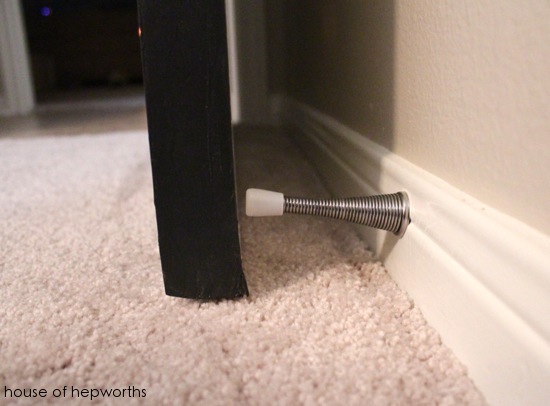 Installing is easy. Just remove the old one (it should be screwed into the baseboard, so just unscrew the entire thing), and then screw this new one directly into the old stop's screw hole. Two seconds tops.
And while we are on a doorstop kick (hahaha, no pun intended but that was funny anyway), let's talk about my back door: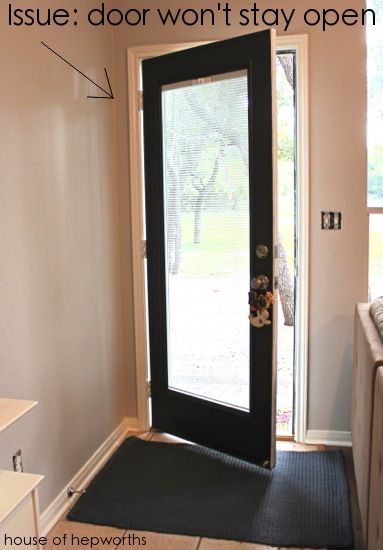 This door will.not.stay.open. If I want the door open it will find its final resting spot in this position. Really annoying. I have been using a shoe, or whatever other heavyish object I can grab to prop the door open until I stumbled on the holy grail of doorstops on True Value's website. Maybe I'm the only person that has never heard of this, but I couldn't order one fast enough once I saw it – behold the Magnet Doorstop: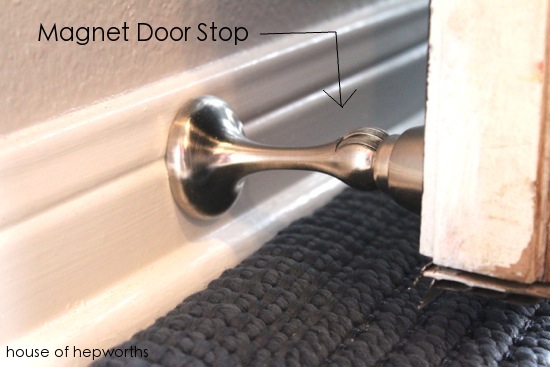 It is exactly what it says it is. A doorstop with a magnet on it. And it's even fancy because the piece that you attach to your door is slightly spring-loaded so if you slam the door open really quick it will bounce off the doorstop as not to break your door. That's some fancy stuff right there.
So now my door stays wide open. Very exciting stuff over here y'all. Very exciting stuff.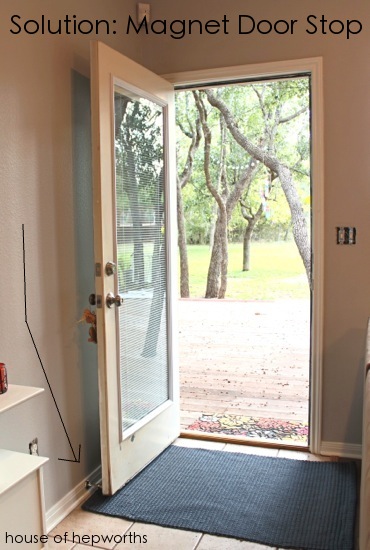 Okay, in an attempt to try to not write an entire post devoted solely to doorstops (because that would be lame), let's talk about those air registers briefly. The house came with the cheapest cheapo plastic air registers that were mostly broken (they wouldn't open or close, were stuck, and some were even missing chunks of grill), so while the ceiling gets a fresh coat of paint I've been adding new nice metal registers. They just make the ceiling look cleaner.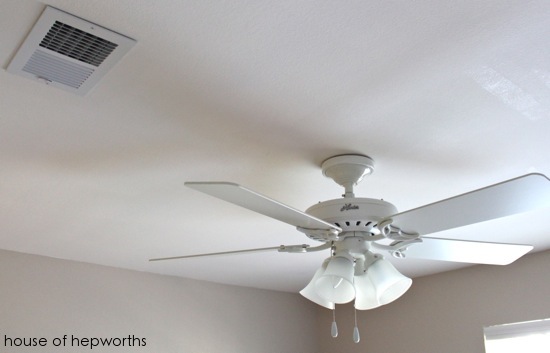 And if you are going to live in Texas, you gotta have a fiddle in the band, er, I mean, you have to have a ceiling fan! It is just too darn hot here to not have ceiling fans. So just like we did in our previous house, we are installing Hunter ceiling fans (I think Hunter is one of the best ceiling fan brands). Fortunately True Value carries Hunter brand fans (yay!) so I happily ordered a few for the children's bedrooms.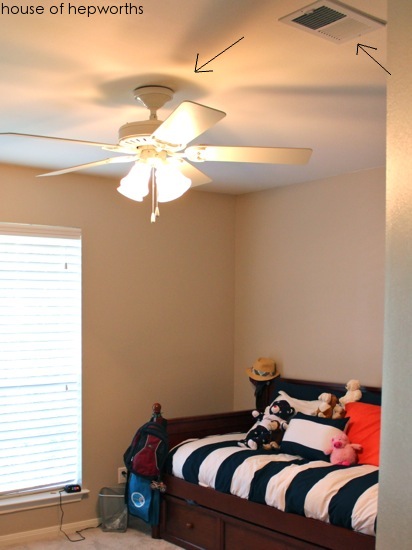 (I wrote this post before
I rearranged my son's bedroom furniture
yesterday. Sorry about the confusion!)
I am getting very antsy to start slapping up some moulding and give this house a more custom feel, but I really feel like I need to finish all these basic upgrades first. If nothing else, it helps me feel less anxious knowing the entire house is clean and "new builder grade". I feel like I'll have less anxiety doing bigger renovations if I can start with a clean slate. And a special thanks to True Value for providing me with the hardware I need to bring this house into the 21st century.