Today I'm sharing over 20 different ways to upcycle thrift store decor items to create fabulous home decor and centerpieces. Shopping at thrift stores can save you a ton of money as well as give you access to extremely unique pieces that you can't buy at your local big box store. A little creativity, glue, and spray paint can transform thrift store cast-offs into stunning pieces.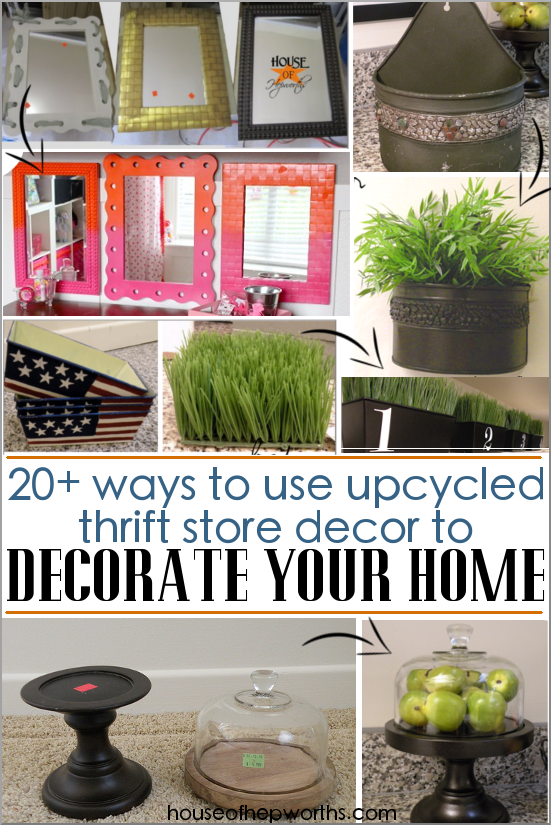 Here are 20+ ways to upcycle thrift store decor purchases to decorate your home.

Take a wooden bowl, add some foam, then top it with fake wheatgrass, cut to size. I created this back in 2015 and I still have it in my home. It's one of my favorite home decor items and sits on my coffee table!


This amazing shelf was donated to a thrift store because it was missing the top shelf. I cut a thin piece of wood to size and attached it on top. Then I gave it a nice coat of spray paint. Now it's a lovely focal point in the sitting room.


This somewhat ugly bar cart was donated to the local thrift store and was covered in cobwebs. It has great bones though! A quick dust off with a swiffer and several coats of spray paint later and now we have a bright cherry piano music shelf. It went from ugly to sexy focal point in a matter of an hour or so.


Ceramic decor is a dime a dozen at the thrift store! Of course, usually it's not really very cute. No fear! A quick coat of spray paint and ceramic goes from ugly to wowza!


This mini mirror was ugly before, but now is the perfect Farmhouse decor. When you shop at thrift stores, think outside the box and imagine how something would look with a fresh coat of crisp paint.


Turn a junky bowl and a candle stick into a cool stand to hold all your makeup. Teens would love this!


Paining a series of mismatched thrifted mirrors a sherbet ombre will turn any boring wall into a swoon-worthy focal point!


I found this cute white shelf at the thrift store. There were two main issues with this shelf: 1) the beautiful carved design was on top, where it would be hidden by any decor in front of it, and 2) there were hooks on the bottom that weren't needed. A quick flip of the shelf, some wood putty for the hook holes, and a coat of spray paint later, now we have a pretty shelf with a great focal point. Here's an updated way that I used this shelf a few years later.


Take a tired cheese dome and a discarded candle stick with nice curves to it, glue them together, add a coat of spray paint, and you've got yourself a beautiful cloche that will have heads turning.
Here's an updated version with mini lemons.


You would not believe what this clock looked like before!


If you ever find something ugly and dated like these mini nutcrackers, snatch them up right away. A coat of a rainbow of spray paint colors turn these dated mini figs into holiday decor you'll want to bring out year after year.


Purchase an ugly donated frame, a piece of foam board, and some burlap to turn this pile of trash into a Pottery Barn inspired wall hanging your whole family will love.


Take some discarded metal containers, clean them off, add some spray paint, wheatgrass, and vinyl numbers and you have a one-of-a-kind decor feature.


Combine two pieces of old candle stick cast-offs to create a new beautiful piece of decor that is sure to stand out!


These candle sticks used to be the same height. For added contrast one was taken apart, cut down, and then assembled again. Instead of throwing away the section that was cut out, it was turned into a new candle stand.


This lamp came from a thrift store and it was brand new! The only problem is that the shade was teal and very dented and damaged. No fear, I just recovered it!


One of my favorite DIYs of all time. This plant container was so ugly beforehand. A quick coat of spray paint changed it completely and it's been hanging in my house for over 8 years now!


Everything mini is cuter, especially when it gets a fresh coat of paint! This dated little chest of drawers wasn't so cute beforehand but after is a showstopper.


This cute little caddy wasn't so cute with a wooden box before. Combining a classic white ceramic platter turned it into a stunner. Display cute little items on it, or add some finger foods for the perfect afternoon tea.


Turn a donated glass bowl into a relaxing zen centerpiece. All you need is a glass bowl, a few rocks, and some candles.
Here are a few more thrift store ideas and cool decor I've found:
Turn a thrifted picture frame into a cork thumbtack board
Brand new King-Sized bedding with tags
Tons of brand new Target stuff I scored at Goodwill
Everything I know about Goodwill


Instagram || Facebook || Pinterest || Youtube
Thanks for reading! Have a wonderful week!